Honoring Gloria White-Hammond and Michael Capuano
Their common ground includes Sudan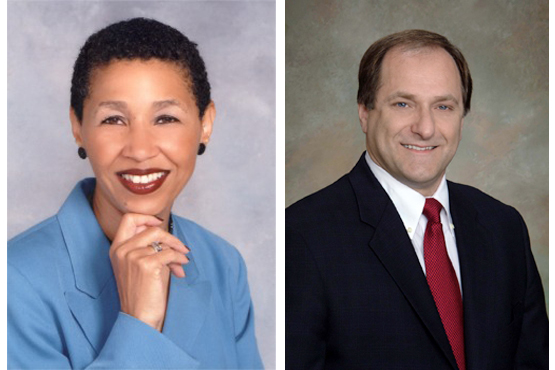 From Baccalaureate in the morning to Commencement address in the afternoon, the main speeches bracketing this year's Commencement Sunday will be delivered by two people who at first glance seem to have little in common.
Yet among the things that the Rev. Dr. Gloria White-Hammond and Congressman Michael Capuano share are political and social activism in their home communities that broadened as they matured, a deepening sense that national boundaries should not define our humanity, and a passionate belief that the genocide in Darfur must be stopped.
Baccalaureate speaker
White-Hammond (CAS'72), who will deliver the Commencement Day Baccalaureate address at 11 a.m. in Marsh Chapel, knows that life's pivotal moments are never clean breaks and that we always carry our past with us. She will also receive an honorary Doctor of Humane Letters from BU, the latest in a string of titles she has earned over the past three decades, including medical doctor, reverend, community activist, educator, and most recently, international human rights activist. Along the way, nothing has been left behind, and each addition, she says, has been "less about career decisions and more about answering a call."
Both BU and the city of Boston were very different places when White-Hammond was an undergraduate — an era she jokingly refers to as "once upon a time." The University, like many across the country, was in turmoil over the war in Vietnam. Race relations were tense in cities nationwide and would continue to roil in Boston throughout the 1970s, with school desegregation and busing controversies.
"It was a tempestuous time to be a student, but also a very fertile time," she recalls. "It certainly has informed who I am today."
During these years she met her husband, the Rev. Dr. Ray Hammond (Hon.'99), then at Harvard. After graduation, they both went to medical school, and then White-Hammond began work as a pediatrician at the South End Community Health Center, where she stayed until retiring in 2007, while her husband worked as an emergency room doctor on Cape Cod. He gave the University's Baccalaureate address in 1999.
In the late 1980s, the pair heard another calling, earned degrees from Harvard Divinity School, and started a church in their Dorchester living room. The Bethel African Methodist Episcopal Church, where they remain co-pastors, eventually moved to its current home in Jamaica Plain.
White-Hammond has worked as a medical missionary in several African countries. In 2001, she went to Sudan, which began the latest chapter of her life's work — speaking out against genocide in Sudan's war-torn Darfur region. After a return trip in 2002, she cofounded My Sister's Keeper, helping bring medical care for HIV/AIDS patients, create girls' schools, and build grain-grinding mills for villages. She became the founding cochair of the Massachusetts Coalition to Save Darfur and headed up the national campaign, Million of Voices for Darfur, for the DC-based human rights group Save Darfur.
All of this, White-Hammond says, has been in answer to "a spiritual yearning." It's reflected in the scripture she's chosen for her Baccalaureate sermon: Isaiah 58:9-12, which reads, in part, "If you spend yourselves in behalf of the hungry, and satisfy the needs of the oppressed, then your light will rise in the darkness, and your night will become like the noonday."
In layman's terms, she advises, "Treat people well. Grapple with your values and then live according to them. Try to live a life of integrity, such that it inspires people to a higher place."
Commencement speaker
Congressman Michael Capuano, whose Commencement address will highlight the main ceremony on Nickerson Field, beginning at 1 p.m., has mused long and hard over a question White-Hammond would much appreciate:
What does his hometown, rough-and-tumble working-class Somerville, have in common with Sudan?
His answer: much more than most people think.
Capuano, who will receive an honorary Doctor of Laws on Sunday, is a third-generation Somerville resident and served as the city's mayor for nine years before heading to Washington. But in 2006, the congressman, who calls himself a "city guy at heart," began focusing 6,000 miles beyond the borders of his district (which includes Boston University) to take action on the humanitarian crisis in Darfur.
He told the Associated Press that the connection between his hometown and Sudan was closer than it seemed.
"This is street politics, as far as I'm concerned, when it comes to genocide," he said. "This is not some social feel-good nonsense about how we all have to love everything. This is boots-on-the-ground, stop-killing-each-other, stop committing genocide."
Capuano became a leading congressional voice on the issue, cofounding and cochairing the Congressional Caucus on Sudan, securing $50 million in funding for the African Union Mission in Sudan, and urging public officials and institutions to speak out against the genocide. He called for Harvard University to divest all financial holdings from businesses with ties to the Sudanese government and said that former President George W. Bush should not attend the opening ceremonies of the 2008 Beijing Olympic games unless China pressured the Sudanese to end the violence.
Capuano's actions on behalf of local, national, and international communities make him a fitting speaker for this year's Commencement, says BU President Robert A. Brown.
"Michael Capuano is a member of the Democratic leadership team and serves on committees addressing some of the most critical issues facing our nation today," Brown says. "He has dedicated his life to public service and has made a true difference in the towns and cities of Massachusetts, all over the state, and for the nation. He has an excellent message for the seniors at Nickerson Field."
Jessica Ullian can be reached at jullian@bu.edu. Chris Berdik can be reached at cberdik@bu.edu.