Holiday Shopping — Alfresco
Downtown Crossing's annual holiday market launches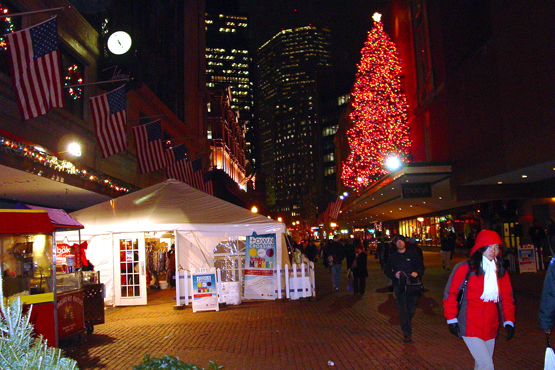 Need to finish your holiday shopping, but can't afford those upscale Newbury Street boutiques? Check out the Downtown Crossing Holiday Market — a bohemian tent city featuring more than 55 local vendors. 
For years, Downtown Crossing was a retail mecca, thanks to department stores like Filene's and Macy's and everyone's favorite bargain bin, Filene's Basement. But in recent years, the area has fallen on bad times — Filene's closed in 2006, and Filene's Basement declared bankruptcy earlier this year.
The Downtown Crossing Holiday Market is one step toward restoring the pedestrian mall to its former glory, says Mayor Thomas M. Menino (Hon.'01). The outdoor market, which city officials hope will become an annual event, opened on November 28 and continues through Christmas Eve. Wares include handcrafted jewelry, pottery, clothing, paintings, photographs, soap, candles, toys, pet items, baked goods, jams, and honey. Local school and theater groups, musicians, and dancers perform live twice a day.
The Downtown Crossing Holiday Market, on Summer Street between Washington and Hawley, is open Monday through Saturday, 11 a.m. to 7 p.m., and Sunday noon to 6 p.m. Live performances take place every day from noon to 2 p.m. and 5 to 7 p.m.
Vicky Waltz can be reached at vwaltz@bu.edu.