Heading to Marblehead
Up the coast, to the beach, back in time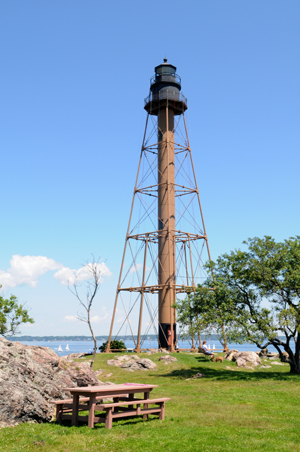 Just 15 miles north of Boston, Marblehead is all about the ocean, past and present.
As the birthplace of the American Navy, the port has deep national roots, but these days the waterfront is recreational, not military; white sailboats dot the harbor, yachting and fishing enthusiasts are out in full force. While the name implies a lot of stone underfoot, there also are a handful of beaches with interesting personalities and room to move. Craving a lobster roll set against an authentic New England coastal backdrop? You've found it, and surprisingly close to downtown Beantown.
Speaking of downtowns, Marblehead's historic aura remains intact. Winding streets are lined with homes built by seafarers in the 1600s; many residents have ancestral ties to the Revolutionary War. You can't really get lost, but you can explore, and handsome public parks in and around the town make for excellent destinations and respites.
Beaches
Devereaux Beach
Here's a beach designed to meet every need. With a food shack, volleyball net, pavilions, lifeguards, bathrooms, and a dog beach across the road, Devereaux is a magnet for day-trippers. On the way, glimpses of the sailboats in Marblehead Harbor offer a sense of place, as does a jaunt down Ocean Avenue to Marblehead Neck for a walk to the lighthouse. On hot days, Devereaux can be crowded, so be sure to stake out a spot early. Directly across a causeway is Riverhead Beach (below), on Marblehead Harbor, a favorite spot for dogs and kayakers.
Parking is available for $5 a day and $10 on weekends.
Grace Oliver Beach
This is the one locals love. Although rocky and small, Grace Oliver has the advantage of its own ocean inlet. At low tide, visitors can walk or wade to Brown's Island for a picnic and be treated to woods, green hills, and a rocky coast with long ocean views. This beach is a popular place for boaters to drop anchor offshore for a dip in the ocean. Bring the boogie boards and snorkels for a chance to spot sand dollars, hermit crabs, and other abundant sea life.
Preston Beach
Relatively large and secluded, Preston is rarely crowded. There are benches at Beach Bluff Park and rocky tide pools down the shore, but plenty of space to toss a football or take a walk to feel sand between your toes. Just be careful not to be caught at high tide when the water reaches the seawall.
Parking is available for $5 a day or $35 for the summer.
Nature spots
Crocker Park
Overlooking Marblehead Harbor, Crocker Park is an outdoor activities hub: picnics, Frisbee, jumping off the dock into the harbor. From the swings or the shade of the gazebo, yachts floating by seem almost accessible. Free outdoor concerts are often performed in summer. Leashed dogs are welcome.
Audubon Nature Sanctuary
This is a hidden gem for bird lovers. Winding paths loop around 16 acres of woods and a pond where painted turtles catch some Vitamin D. The sanctuary is a great dog walking spot, far from the noise and congestion of roads. Bring a field guide — the birding really is great.
The Bike Path
A bike gets you around town as fast as a car, and well off the beaten path. The trail is a loop through Marblehead and Swampscott, approximately five miles long. Along the way are downtown Marblehead, the salt marsh, Ware Pond, and the library; Marblehead Neck is a short detour. The path is mostly flat and unpaved, with some off-route inclines.
Tips
•Visit the Lighthouse at Chandler Hovey Park for a quiet picnic with a spectacular view of the harbor. Parking is free.
•Terry's Ice Cream is the popular local spot for the best ice cream, soft-serve, Italian ice, and smoothies. It's convenient, too, at 6 School St., on the way to Crocker Park downtown.
Transportation
By car:
From downtown Boston, take the William F. McClellan Highway, also known as Route 1A north, across Boston Harbor and cruise through East Boston as traffic thins. Turn onto Route 129 in Swampscott and continue into Marblehead. The drive from Boston University is approximately an hour.
By bus:
MBTA buses, numbered 441 and 442, run from Haymarket (Orange or Green Line) to downtown Marblehead.
During rush periods on weekdays, the number 448 and 449 buses connect Marblehead to Downtown Crossing. Trips typically take about an hour and a half, more or less depending on traffic. One-way fare is $3.45.
By train:
Commuter rail trains leave frequently from North Station (the Green Line). Take the Newbury/Rockport line to Swampscott (20 minutes). Marblehead is only about five minutes away by taxi, a reasonable hike and an easy bike; bicycles can be brought on the train except during crowded rush hours. Tickets are $5.25 per ride.
Anna Webster can be reached at annaweb@bu.edu.