BU Sells WRNI for $2 Million
Rhode Island Public Radio to own, operate NPR station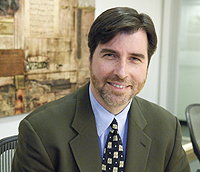 The sale of radio station WRNI by Boston University to Rhode Island Public Radio became final earlier this month, ending a multiyear process and marking the first transaction completed in accordance with a 2005 Rhode Island law requiring the attorney general to protect the state's charitable assets.
"Now, finally, we can say that WRNI is owned and operated by Rhode Islanders," says Joe O'Connor, the station's general manager since 2006. The agreement gives WRNI, Rhode Island's first National Public Radio news station, administrative and financial independence from Boston University and its WBUR Group.
The station, formerly WRCP 1290AM, was acquired by WBUR and BU for $2 million in 1998. The sale of the station was first proposed in 2004, but was delayed by an extensive review process by Rhode Island Attorney General Patrick Lynch; Lynch closed his inquiry in 2006, citing BU's fulfillment of its pledge to hire a full-time general manager for the Rhode Island station, to reengage with a local public radio advisory board, and to implement consistent allocation of Rhode Island charitable donations to WRNI. Lynch's office again undertook a review of the sale in 2007 pursuant to the requirements of the state's Public Radio Conversions Act, as well as to the office's civil law responsibilities to preserve and protect charitable assets in Rhode Island.
"Every 'i' has been dotted and every 't' crossed," Lynch says. "WRNI has become a prized community asset and a trusted source of public information. It's great for Rhode Island that this station will remain in Rhode Island."
The new owner, Rhode Island Public Radio, is a nonprofit corporation that is the successor to the Foundation for Ocean State Public Radio. The WRNI Foundation and BU agreed to sell the license, tangible property, contracts, station records, and real property to Rhode Island Public Radio for $2 million, a purchase price significantly below WRNI's appraised value. The sale was finalized on January 15.
O'Connor says the station plans to hire more local reporters and increase the quantity of local stories and segments that mirror the quality of NPR, the mainstay of WRNI's program schedule.
"We are indebted to Rhode Islanders everywhere, without whose support we would simply have not stayed on the air," he says. "Boston University and WBUR deserve our thanks for founding WRNI as well as their continuing and generous commitment to assist Rhode Island Public Radio in the years to come."
Paul LaCamera (COM'66, MET'74), the general manager of WBUR, says that the station and the state will be better served by local ownership.
"We are confident that WRNI will thrive going forward," he says.