WBUR's On Point Broadcasts from Shanghai
BU's NPR station starts series on politics, Olympics, and China's ascent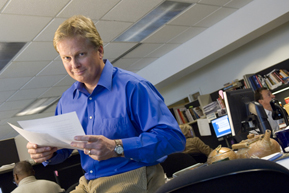 The protests that have dogged the Olympic torch on its international journey to Beijing for this summer's Olympic Games and the Chinese reaction to those protests reflect the tension between China's eagerness to take its place at the center of the world stage and its dictatorial power structure, one that distrusts foreigners and forbids free expression among its own people.
What the Olympics portend for this massive country on the verge of superpower status is just one of the larger issues that On Point, WBUR's newsmagazine call-in program, will explore during a week of shows on China broadcast from Shanghai, beginning today, April 14.
"For all we hear about China, we have a long way to go to really catch up, and keep up, with what's going on there," says On Point host Tom Ashbrook, who worked for the South China Morning Post in Hong Kong at the start of his journalistic career more than a quarter century ago and has kept track of developments in China and the region since.
"China's rise is as big a news story as you'll ever see, likely the biggest story of this century," says Ashbrook, who proposed taking the show to China. "We're trying to push that conversation forward, to open a live link between the United States and China, which is something extraordinarily rare."
On Point is particularly well suited to push that conversation. The program is carried by 114 National Public Radio member stations nationwide, and the most recent Arbitron survey, from fall 2007, indicates that it clocked the fastest audience growth among NPR news talk shows. The show's format will change somewhat this week, both to take advantage of being on the ground in one of China's busiest port cities and to accommodate the 12-hour time difference. Each day will feature two hours of programming on topics ranging from Chinese students to China's environmental crisis to American business in China, with the first hour live at 10 a.m. Eastern Daylight Time and open to callers from the United States, and the second hour a pretaped mix of studio guests and stories from the streets of Shanghai.
"It took months and months just to get the visas," says Sam Fleming, WBUR's managing director of news and programming, "and then we had to ship equipment over there, hire interpreters, and make arrangements for all these guests to come to the studio at 10 p.m. Shanghai time, some of whom have to be flown in from other parts of the country."
Luckily, Fleming and On Point producer Julie Diop were able to tap the experience of another public radio show, Marketplace (produced in Los Angeles), which had broadcast a show from China in 2006. Marketplace staff steered the On Point crew to one of the "fixers" (part guides, part translators employed by reporters overseas) they had used, and a Marketplace engineer who knows the ropes of working in China has been in Shanghai setting up the studio well ahead of today's first broadcast. A grant from the Henry Luce Foundation is footing about half the cost (about $75,000) of On Point in China, and the Mosaic Foundation and the Oedel Foundation are providing additional funding.
"I think having Tom and the crew over there, actually smelling and feeling the place, talking to people, and having access to all things Chinese will bring them a completely new perspective," says Fleming.
Chris Berdik can be reached at cberdik@bu.edu.