Water World
BU Abroad: A personal account of a semester in Venice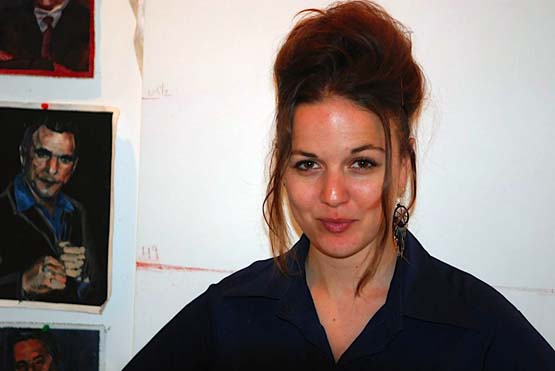 BU Today reporters are visiting campuses across Europe this month to learn more about Boston University study abroad programs. In all, the University has 75 study abroad programs — in language, liberal arts, fine arts, engineering, and science — in more than 20 countries around the world. During the next few weeks, BU Today will be publishing students' accounts of their international experiences. Click here to learn more about Gabriela Fish in Madrid, and click here to learn about Kelsey Herwig's experience in Dresden.
Like the five other BU painting majors in the Venice Studio Arts Program, Erika Rosendale divides her time between working in her studio, taking courses, and wandering the alleyways and canals that crisscross her new home.
Rosendale (CFA'11), whose paintings are displayed in the windows at the entrance to Warren Towers, talked to BU Today about getting wet, getting religion, and the pleasures of getting lost.
***
When we arrived here in August to start our semester abroad, there was a huge thunderstorm. We'd been traveling for about a day and had just gotten off the plane, and there we were with our three huge bags each, toting them around while it was raining to beat hell, with lightning, thunder, and everything. It was insane.
And to get to our apartments we had to get on the vaporetto, which is a water bus, Venice's main form of public transportation. It's kind of cool actually. But we didn't know what we were doing at this point, and everybody was on the vaporetto that day. I still have not seen it that crowded, because it was raining and nobody wanted to walk, so everybody just crushed onto the water bus. Everybody's yelling at each other and pushing and shoving, and the guy manning the vaporetto gate was yelling at us to go inside, and we couldn't, because there were too many people. We finally got to the apartments, and everybody got a room and got dry, but it took another day or two for our clothes to dry. It was quite a first impression. But we were still excited to start.
All six of us here from BU are painting majors. We have to take the vaporetto across the main canal to our studio space in Giudecca. We also take two electives, such as printmaking or bookmaking. I take lithography and etching, which are taught by Italian teachers and are fantastic, laid-back, awesome classes. We also take an art history course and an Italian course. The art history is in English, and the lithography and etching are taught in Italian and simultaneously translated by an American woman.
Most of our classes are at the Scuola Internazionale di Grafica, which is 20 minutes away from our painting studio back across the canal. The days we have art history are different, because we meet around Venice. Our teacher will just say, "OK, we're meeting here today, and we're going to go walk to this church and talk about this piece and then that piece at this other church." The class meets for two hours, sometimes longer. We've gone to Rome for the course for two days and we've gone to Florence for a day.
***
I tried to not come here with too many expectations, but with more of an OK-let's-see-how-it's-going-to-be kind of attitude. I thought there was going to be more interaction with Italian students, but we don't have classes with them. Outside of school, I really want to speak Italian whenever I can. I took two semesters of it before I came here, and that was helpful, because I didn't practice at all over the summer. So coming here was a crash refresher course. You'll get Italians who are more than happy to speak English with you. In fact, you might try to speak Italian with them, and they start talking in English, and you go, "No, no, no. I want you to talk in Italian, just slowly."
I talk Italian when it comes to grocery shopping. Restaurants are really expensive here, but food's cheap at grocery stores, and we have a kitchen, so we cook. There are some ingredients particular to Italian cuisine that are cheaper here than in the States, like really good Parmesan cheese. So for that stuff, I'll kind of up it a little bit, but it's still pretty utilitarian cooking. I mean, it's not like we cook pasta every single day by any means. In fact, I don't think I've eaten pasta once, honestly, just because I know I would get so sick of it otherwise. Everyone here does eat it literally every day.
And saving money on food means more money to travel. I've gone to Amsterdam and Ireland so far this semester. And once in a while you'll look at something expensive in a shop window, and you'll say, "You know what, I actually have the money for that." This is totally not a college thing, especially for an art major, because we're spending all this money on art supplies. So, it's nice to kind of be able to say, "I'm abroad in a romantic foreign country, and I can splurge every once in a while."
***
When I'm not in class, I sometimes go off by myself and look at a piece of art somewhere, or a church, because we're studying the beginnings of the Renaissance in Venetian art — starting with influences from the east and the Byzantine Empire and then progressing to Venice Renaissance style. And seeing that progression, from the more abstract style to the more naturalistic style, has influenced how I think about my own work in narrative painting, which is multifigure compositions of a moment in time.
Examples of classic narrative painting would be the millions of depictions of the crucifixion or the Last Supper. Most of the classic narrative paintings here in Italy are religious and from the Bible, because this is and always has been an incredibly religious community and that's what all the art was about. And what interested me is attempting to do narrative painting now that has the same impact as the religious tableaus did for Italians in the Renaissance (or even today, because people are still very religious in the Catholic-Italian community). Seeing how much effort and money and inspiration went into their faith and how much it meant to them, I'll look at a painting and it will totally hit me, even though I don't know what the Biblical story is about.
The painting I'm working on is a reenactment of the Last Supper painted by the Italian Renaissance artist Tintoretto, which is in the San Giorgio Maggiore church here in Venice. I'm reenacting it with American Mafia, making it like an American Mafia dinner. I completed a sketch, and I've been doing these smaller compositions of it, because I'm interested in composing mini narratives of different relationships between people within the painting. So I've been working out these smaller compositions, and I had them on display for a critique.
And I got a much different response from Italians than I think I would have back in the States. I don't want to say they were offended or that they were, but it was OK. But it was like, "What I'm seeing is that you're saying that the Church and the Vatican are a Mafia," and I was like, "OK, not exactly." But getting that reaction from the people whose ancestors did these paintings of the Last Supper and Biblical scenes all the time, and the perspective of what that means to them and what a reenactment would mean, was actually really informative and made me realize I had to look at this painting with more context — really know why I'm choosing to do the Last Supper and reenacting it.
All the Italians know that original painting, whereas in America, some people might recognize it as the Last Supper or they might not. I mean Tintoretto, whose painting I'm referencing, was making political commentary with his work. He did the Last Supper in a contemporary Venetian setting, so all the servants were Venetian, and it was supposed to be a social commentary about relationships between charity and the middle class. I'm learning about the context of that painting now, as a result of the critique I had and realizing that I need to know more about what he was saying then, and therefore what I am going to be saying now.
I think that context is going to be really, really helpful and give my piece much more depth when I go back home and finish it there as my thesis project. Plus, I have other ideas involving the same kind of thing, reenacting the religious paintings they were doing in the Renaissance and making them have the same impact now, but with a different subject matter, because we don't necessarily pay attention to religious narrative paintings in the same way. I did one painting of Captain America being crucified, for instance. I didn't make him Christ, because I didn't give him a halo, but I did make him a martyr. That's kind of how I got interested in all of this, thinking abut modern art media and old classical work and bringing that together somehow.
***
I've wandered around a lot in this city. People are afraid that they're totally going to get lost, but really the island is not that big. You can actually walk the whole thing in about an hour. And it's kind of fun. You get lost, and you realize that if you have some time, you'll find your way eventually. So I actually like to just wander the streets and the smaller alleys, where you find things like little art stores with actual pigments, real wooden masks, and crazy Venetian costumes.
When we first arrived here, we were definitely tourists. We were Americans trying to ask for things, asking where things were, trying to learn customs, like paying for bags in the grocery store. For instance, you have to pay to sit down in a café or restaurant because there's a cover charge, so you save money by standing at the little bar sipping your cappuccino. My goal as soon as I got here was to figure all those little customs out to the point that I didn't appear like a total tourist. And when my parents came, I was able to show them around and talk Italian in the restaurants when they were asking, "What's this? What does this mean?" It was a culmination of things that started happening. I felt more like I'm actually living here. I'm not Venetian, but I can at least pass for one occasionally.
Chris Berdik can be reached at cberdik@bu.edu.