University Recognizes RAs
Lauren Silberman (CFA'08) is one of the resident advisors being recognized during RA Appreciation Week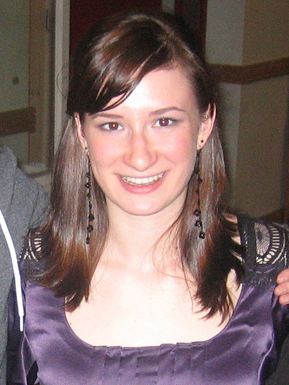 This week is RA Appreciation Week, and BU Today is highlighting a few of the outstanding resident advisors on campus.
While most BU students change dorms each academic year, Lauren Silberman (CFA'08) has remained on the same floor of the same building for four years. Silberman lives on the College of Fine Arts specialty floor of Claflin Hall in West Campus, where she is now an RA.
"I really like the community on the floor, the community among the other RAs, and my hall director," she says.
A music major, Silberman has had to balance schoolwork, practice time, concerts, and her duties as a member of the CFA school of music's Student Advisory Council in addition to her responsibilities as an RA. Finding the right balance wasn't so easy at first.
"It took a lot of work my first semester as an RA to get very efficient in my time-management skills," she says. A little over a month later, though — and with the help of the Office of Residence Life, her hall director, and other RAs — Silberman found that balance. This year she has taken on an additional leadership role as a second-year RA.
"It's a nice gesture for the Office of Residence Life to give back to us in this one week," she says.
Rebecca McNamara can be reached at ramc@bu.edu.