The Other Side of Adderall
Study drugs come with health risks, BU docs say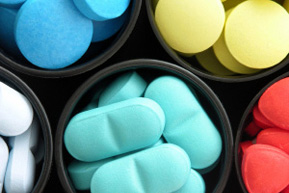 The stress of keeping up with academic life, especially around finals time, can be challenging, even for the best of students. A fall 2007 American College Health Association study found that over 90 percent of college students felt overwhelmed by all that they had to do. So it's not surprising that some turn to illegal prescription drugs to boost their ability to study harder and longer. Drugs such as Ritalin and Adderall, used legally to treat attention-deficit hyperactivity disorder (ADHD), are also used as study aids and are sold illegally for as much as $10 a pill. A March 2007 study in the journal Addiction found the nonmedical use of prescription drugs among American college students increased from about 4 percent in 1993 to about 10 percent in 2001.
Ritalin and Adderall are the drugs of choice because they increase alertness, attention, and energy. We spoke recently with Sara, a BU student who requested anonymity. She has used both Adderall and Ritalin, and she estimates that about 30 percent of BU students occasionally do the same. Sara says that if she needs to stay up all night to finish a paper, she chooses Adderall. If she needs to study for something small, such as a quiz, she uses Ritalin.
"I use study drugs because they keep me up to study; I don't even have to think about it," she says. "They put me on autopilot."
But, experts caution, Ritalin and Adderall also do some things that are not helpful, and may, in fact, be dangerous. Both drugs alter certain chemicals in the brain, increase blood pressure, as well as blood glucose and heart rate, and constrict blood vessels. They can suppress appetite and can keep people awake when their bodies need sleep. With continued use, warn experts, there is an increased risk of paranoia, heart attack, or seizure. In other words, there are good reasons that the U.S. Drug Enforcement Administration classifies these drugs as Schedule II, along with PCP, oxycontin, and cocaine.
David McBride, director of Student Health Services, says that at this time of year he does occasionally talk with students who admit to taking a friend's Adderall to help study. "Stimulants help people stay awake longer," says McBride. "The trouble is, they disturb your sleep, they can make you jittery, you may have racing thoughts, difficulty sleeping, and further difficulty concentrating. Using something like this, you may get more than you bargained for."
Amy Laskowski can be reached at amlaskow@bu.edu.