The NHL's $35 Million Man
BU alum Chris Drury (CAS'98) is at home with the New York Rangers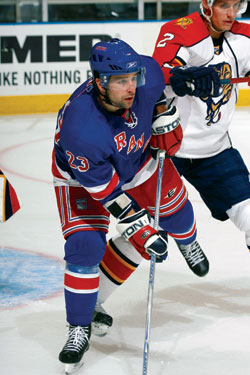 Last fall, three days before his regular-season debut with the New York Rangers at Madison Square Garden, Chris Drury was sitting beside his locker, carefully extracting his feet from a new pair of skates. The 31-year-old, who last summer signed a five-year $35 million deal with the Rangers, blends easily with the team's stars and journeymen, his Rangers jersey hanging on a nearby locker. The Rangers logo, he says, was what he longed to wear during his teenage years in Trumbull, Conn., and throughout his ice hockey career, which has seen championships in college and the NHL and an Olympic silver medal. "I didn't really want to dwell on it or think about it too much," says Drury, who signed with the Blueshirts as a free agent last July, "but this is where I wanted to be."
Drury pitched Trumbull to victory in the 1989 Little League World Series, which led to a visit to the White House and throwing out the first pitch of the World Series. But it was posters of hockey players that adorned his bedroom walls.
When he was a BU freshman, Drury (CAS'98) played on the 1995 NCAA Division 1 national championship team, and he remains the only Terrier recipient of the Hobey Baker Award, given to college hockey's player of the year. During his four years, the team won four Beanpots, four Hockey East regular-season titles, two Hockey East tournament titles, and the NCAA title. After graduating, Drury joined the Colorado Avalanche and was voted NHL Rookie of the Year. Two years into the league, his Avalanche team won the Stanley Cup. He played for Calgary for a year before being traded to the Buffalo Sabres.
Before joining the Rangers, Drury played for the Sabres as cocaptain, leading the team to the 2007 Eastern Conference finals with a career-high 37 goals. Although his move to the Rangers was rumored all last season, Drury's focus on his Buffalo team never wavered. As if to disprove any notion that he was looking ahead, Drury beat the Rangers by scoring in overtime in game five of the Eastern Conference semis.
That professionalism is one of many traits he acquired under BU head hockey coach Jack Parker (SMG'68, Hon.'97). "He prepares you for being a professional hockey player," Drury says, "but he also prepares you to play a professional in life."
Still, Daniel Briere, his Sabres cocaptain, says he saw it all season: New York set Drury daydreaming. "Not on purpose," Drury says, his voice just above a whisper, "but maybe that's what he saw. He knew me well enough to know that this is a special place to me."
Drury's tastes are typical Big Apple. He loves the Yankees (he even wears number 23, in honor of boyhood hero Don Mattingly) and the city they call home. Instead of settling in the familiar suburbs of Connecticut, Drury, his wife, Rory, their son, Luke, and daughter, Dylan, have moved to Manhattan, where running out for milk can lead to encounters with strangers compelled to dissect his face-off technique.
"Actually, in a small town it's sometimes harder to get around," he says. "You go to school to pick your kids up and you're getting chirped at about the power play. I don't think that's going to happen here, though it certainly did happen in Buffalo."
No matter. Not only is Drury where he wants to be, he's third on the Rangers with 47 points this year, plus four goals and four assists over a seven-game point streak. The Rangers' current run has them seventh in the Eastern Conference with 74 points, two back of Boston. And he's skating with the likes of right wing Jaromir Jagr and goalie Henrik Lundqvist, who rank among the NHL's best. There's also Scott Gomez, another centerman, who endured the media blitz with Drury last summer. Gomez, an Alaska native who's met few conversations he didn't start, says he quickly learned where Drury's allegiances lie.
"You could just tell this is where he wanted to be," Gomez says. "Chris is a pretty quiet guy, but you could tell he was excited."