Making The Making of the President
Mel Stuart speaks tonight on the Kennedys, Vietnam, and politics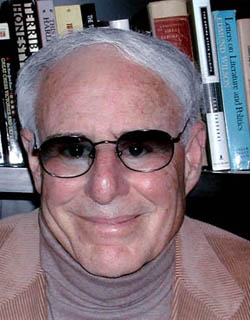 Film director Mel Stuart believes he might have altered the course of history if he had just anticipated where U.S. Senator Robert F. Kennedy was headed after acknowledging his win in the California primary on that fateful night in 1968.
During that year's presidential campaign, Stuart often could be found walking ahead of Kennedy, his camera trained on the candidate. But the night Kennedy made his acceptance speech, Stuart didn't know which way he was headed.
"It's always been the regret of my life that I was behind him," he says. "If I had been in front of him, I would have been with my cameraman and my soundman, between him and Sirhan B. Sirhan, and he would have had to push us out of the way to get to Bobby Kennedy. I know it sounds silly, but the whole history of the world could have changed. I mean, I might have been shot, but everything would have been different."
The 80-year-old Stuart, who has made more than 190 films over five decades, will screen and discuss two of his documentaries, one tonight and one tomorrow night, as part of the BU Cinemathèque series. Making of the President 1960, winner of three Emmys, and Making of the President 1968 offer behind-the-scenes looks into the presidential election of 1960, when John F. Kennedy defeated Richard Nixon, and of 1968, when Nixon bested Hubert H. Humphrey after the assassination of Robert Kennedy. Both screenings will begin at 7 p.m. in the College of Communication and will be followed by a discussion with Stuart.
Over the course of the two nights, Stuart will also offer five tips for making it in the film industry.
BU Today: How is today's political and social climate different from that of the 1960s?
Stuart: The world wasn't as intrusive in '60 as it was in '68 and as it is now, blown out of all proportion. And America wasn't that kind of kick-ass power that Bush has tried to make it. We weren't going around the world looking for this and that, and we hadn't yet gotten involved with Afghanistan and the Russians. So the 1960 election was really about American feelings and ideals. It was an election of personality, not issues.
It was different in 1968, because we had Vietnam. And President Lyndon Johnson was smart enough to know that he wasn't going to win, so he got out, because Vietnam had polarized the country. America had really come to be a world power. In '60 we were big, but we weren't like we were in '68, and certainly not like we are now, pushing everybody around. The whole world had changed by '68.
How have the media changed the dynamics of presidential elections?
Remember, a lot of people in 1960 didn't know who Kennedy was. They saw his name, but they never really saw him against Nixon. And suddenly, this vibrant force comes out, and it changed the feeling about the election enormously. And I think you find this in movies and in everything we do. In your personal life there are certain people who come on stage and you know right away that you're fascinated by them. It can be a Marlon Brando, and it can be a Kennedy.
I think we see it in many elections. People win simply on the strength of there being something about them that attracts the interest of people. Now, the media, being the transmission, are the ones to pick it up. But they can also do bad things — you have to be able to use your tools. And what greater tool than the media is there in present-day America to get people to turn one way or the other? You have to use the media for your purposes.
But the media in our country are terribly, terribly important. And they're not neutral — some of them try to be neutral, but your impressions of the people are brought to you by the media. And this is a phenomenon of the 21st century. You never had this kind of thing before.
What the media like to do is show you impressions. That's not the real John McCain, and that's not the real Barack Obama. But they want to make it as though it's a movie.
How do you think Obama and McCain are being perceived through the media?
Obama has been using the media fantastically. I think the people he's got now are really sharp. I wish they would be a little bit meaner. But I think they're using it really well. And you know, I think it's as good as they can do. And they don't let anything go by without giving an answer. I wish it was tougher, but I think they're using it very effectively.
I guess I wish I was creating another Making of the President for this election. But you know what — after a while, if you're in politics for too long, you start getting very cynical.
What do your two films tell us about today?
You get an idea of all the intricate maneuverings that go on. You just can't say, "I want to be president of the United States." There are a lot of obstacles between there and getting to be president. And you get an idea of what the factors may be that will shape the campaign, and how history can be changed. You know, if Bobby Kennedy had been president, I'm sure we would have been out of Vietnam four years earlier. I mean, history is so dependent on the personalities of the people who achieve power.
I had finished the rough cut of Making of the President 1960, and Theodore White was going to write the words and finish it off. And the last shot of the film was Eisenhower, who was president, shaking Kennedy's hand. So I said, "Now Teddy, at this moment, I'm going to freeze the frame, Eisenhower shakes Kennedy's hand. Kennedy is now president. And I want you to write about this."
And so he looks at me without blinking — I'll never forget this as long as I live — and says, "How about, 'So power passes'?" And that's what it's all about. An election is the passage of power to one person. So you better pick the right one when you're voting.
Making of the President 1960 will be screened tonight, October 23, and Making of the President 1968 will be shown tomorrow night, October 24. The films begin at 7 p.m. in the College of Communication, Room B-05, 640 Commonwealth Ave., followed by a discussion with director Mel Stuart. The screenings are free and open to the public.
Robin Berghaus can be reached at berghaus@bu.edu.