Kia Ora from Kiwiland
A letter from a BU student in New Zealand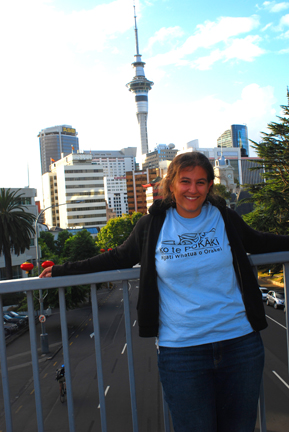 As it turns out, the grass really is greener on the other side of the equator. In New Zealand, even when it's cloudy, the plants are a startlingly bright shade that I just don't think exists in America.
That was only one of many subtle differences I noticed on my first day of Boston University's International Program in Auckland, where I'm spending spring semester along with 28 other BU students. So far, I've also observed that people are friendlier, toilets flush the other way, and the man in the moon is upside down when you're down under.
As a magazine journalism major in the College of Communication, I chose to come to New Zealand to gain experience that might help me score a future career in travel reporting. So before I began classes and an internship at Citymix, an entertainment and events magazine, I needed to get used to a new language — yes, it's English, but there are lots of nuances you have to understand, especially as a writer. I'm not going to be looking for local color, but local "colour."
(On a practical level, I also realized shortly after arriving that I needed to learn to look the opposite direction when crossing the street.)
After a turbulent 13-hour plane ride from Los Angeles, our group landed in Auckland in early January ready for adventure. The first few days were full of busy preparations. Right off the plane, we had paperwork to fill out, new roommates to meet, and sunburns to care for — coming from the freezing Boston winter, our skin was not equipped to deal with New Zealand's strong summer sun in January.
All the students in the program are enrolled as international students at either the University of Auckland or the Auckland University of Technology (AUT), depending on their major. We arrived in the middle of summer vacation, so we started with a summer school course designed just for us: Aotearoa New Zealand: History, Society, and Politics. The class will go on our BU transcripts as a 300-level social sciences course — a perk of traveling with a BU-sponsored program is that the credits will automatically transfer!
After our first campus tour, the AUT group took a walk around the city that will be our home for the next six months. Auckland is the biggest city in New Zealand and in many respects looks like any other urban center. But there are a few notable differences, such as the all-way crosswalks, where all traffic stops at once so people can cross in any direction, and the predominance of Asian restaurants — not so surprising, since New Zealand is called the "Gateway to the South Pacific." And of course, it's hard to miss the gleaming 1,076-foot Sky Tower, the tallest building in the southern hemisphere.
We were lucky enough to see someone base-jump off the top of the Sky Tower as we walked underneath. Kiwis, it seems, are a little obsessed with extreme adventure activities — you can also walk the circumference of the top of the Sky Tower on a four-foot-wide ledge that looms 630 feet above the ground. There's no railing and no balcony — just a safety harness between you and gravity.
The city, cool as it is, is nothing compared to the amazing sights just 10 minutes away. When the weekend arrived, we learned that gorgeous beaches, black-sand dunes, and luscious rainforests are just outside the city limits.
On our first stop, we went "tramping" (New Zealand slang for hiking) through the "bush" (forest) at Waitakere Ranges Regional Park. Our guide pointed out the giant Kauri trees that New Zealand's indigenous Maori people used to make sails and told us about the now-extinct moa birds, which grew up to seven feet tall. Like the iconic kiwi bird that gave the country its nickname, the moa was flightless, since it evolved with no natural predators. Just as well — it's hard to imagine fighting a seven-foot flightless bird. I'd probably give up right away because I'd be so busy laughing.
Next stop was a black-sand beach, which offered stunning panoramas and staggering frustration: it's really difficult to walk up sand dunes. With every step you take, you slide a few inches backwards. When one of our pert, muscular guides informed our sweaty group that the lake was "just over the next horizon," we were less than thrilled to find out he meant you could begin to catch a glimpse of it — in fact, at least four more hills remained.
Once we finally reached our destination, I tried my hand at the not-so-extreme sport of dune-jumping, where you run to the cliff of a dune and jump off. You inevitably come crashing back down midway, and that extra-fine black sand makes for a cushy landing. I rolled most of the way down the hill and ended up looking as if I'd covered myself with coal.
The walk back to the bus felt like a tour of world foliage. I'm not typically too interested in geology, but the variety of the landscape was stunning. We walked across sand dunes that stretched for miles and ended at a farm with cows staring at us from atop rolling green hills. We passed giant evergreens that could have been plucked out of Montana, tall Massachusetts-style pines, then thick, curvy trees that looked distinctly African. Finally, we reached a mass of exotic palms and sprawling leafy plants that seemed better suited to a Costa Rican rain forest.
I'm starting to rethink my plans to travel the globe. In a semester in New Zealand, I may get a taste of it all.
If you'd like more information about the Auckland Program, contact program manager Caroline Hartevelt at charteve@bu.edu, or call 617-353-9888.
Jessica Leving can be reached at jleving@bu.edu.
If you'd like to submit a study-abroad journal to BU Today, e-mail today@bu.edu.