Home Is Where the Art Is
BU's Liza Abelson opened an art gallery in her home last fall to exhibit her paintings and those of friends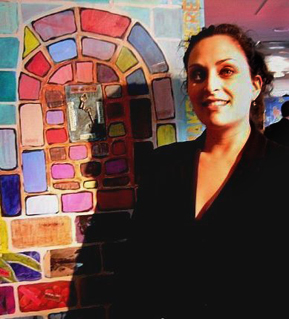 Visitors to Liza Abelson's bright yellow house in Plymouth, Mass., can see not only the usual furnishings — a piano, couches, tables — but also an unusually large collection of art.
Last fall, Abelson, the executive assistant to BU's vice president for auxiliary services, transformed the first floor of her home into a gallery for fine art and handmade crafts. "In contrast to a sterile, white-walled gallery," she says, "the home setting is intimate and relaxed and a great way to view art."
She opened the Dasken Gallery in October to show and sell her own, her mother's, and friends' art; she now shows the work of 13 local artists. The gallery's name is a combination of her parents' names, Hadassah and Kenneth.
Abelson manages the gallery on the weekends when she isn't working at BU or creating her own art. Her paintings are based on photographs of people, city scenes, and animals and often have an expressive, human element. "My work is a celebration of life," she writes on her Web site. "I paint what I'm drawn to and what I like."
Like many artists, Abelson has always maintained two jobs. "The jobs appeal to different aspects of my personality and allow me to utilize my entire skill set — business, creative, and otherwise," she says. "Having this variety of experiences enriches my life and makes me better prepared for both careers."
The Dasken Gallery, One Puritan Place, Plymouth, Mass., is open Saturdays and Sundays from 1 to 5 p.m. and by appointment.
Rebecca McNamara can be reached at ramc@bu.edu.