From Our Kitchens to Yours
BU community shares holiday recipes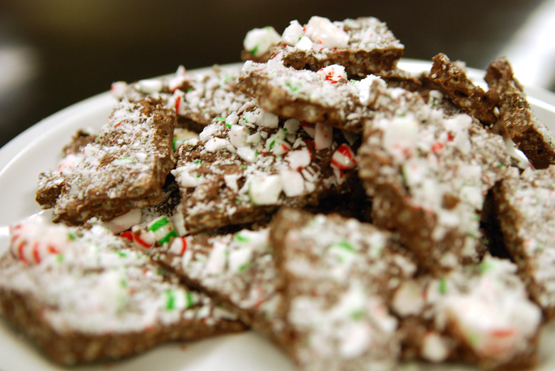 The theory behind Mary-Jayne MacDonald's Christmas MorningWifesaver, a baked breakfast casserole, is simple: assemble the dishthe night before. "All that's left to do to feed the whole family ispop it in the oven and relax," says MacDonald (MET'10), a master'sstudent in health communication.
"Of course, then there is theripped wrapping-paper mountain and the fact that the rest of the familysomehow disappear as soon as they're done eating," says MacDonald, whois from Oshawa, Ontario, and now lives in Quincy, Mass. "Butit's something!"
MacDonald was among the students, faculty, andstaff who shared their favorite holiday recipes with the rest of the BUcommunity. They've got you covered for breakfast, lunch, and dinner forthe holidays, or any day. And don't forget dessert — they certainlydidn't. The recipes, some with notes from the authors, are below:
Canadian Christmas Morning Wifesaver — Mary-Jayne MacDonald (MET'10)
Christmas morning wouldn't be complete without my mom's Christmas Morning Wifesaver!
16 slices white bread, crusts removed, a little stale is actually better
16 slices Canadian back bacon. Here in the U.S. you can find back baconat an Irish food retailer or a good butcher's shop, but ham will dojust fine
16 slices sharp cheddar cheese or enough shredded sharp cheddar to thickly cover
6 eggs
1/2 tsp pepper
1/2 to 1 tsp dry mustard
1/4 cup minced onion or shallot
1/4 cup finely chopped green pepper or red pepper
1 to 2 tsp Worcestershire sauce
3 cups whole milk
dash Tabasco or hot sauce of your choice
1/2 cup butter
Special K or lightly crushed corn flakes, enough to fully cover
Put half of the bread into the bottom of a 9"x13" buttered glass baking dish.
Cover bread with slices of back bacon or ham.
Cover with cheddar cheese and then cover with remaining slices of bread and press lightly.
In a bowl, beat eggs and pepper. To the egg mixture add dry mustard,onion, green pepper, Worcestershire sauce, milk, and hot sauce.
Pour over the whole dish, cover, and pop in the fridge overnight.
On Christmas morning, melt butter, pour over top. Cover with Special K or lightly crushed corn flakes.
Bake, uncovered, 1 hour in a 350 degree oven. Let it cool down for about 10 minutes before serving.
French Toast Souffle — Karen Shiffman, senior associate producer, WBUR's On Point
1 loaf of French bread
5 eggs
3 cups milk
1/2 cup sugar
2 tbl vanilla
splash of bourbon
The night before, grease a 9"x 13" Pyrex pan with butter.
Cut the bread into one-inch slices and line them up in the pan.
Using blender, mix eggs. Add sugar and mix again. Then add milk, vanilla, and bourbon and mix well.
Pour mixture over bread.
Cover with plastic wrap and refrigerate overnight.
The next morning, dot with butter, sprinkle with cinnamon and sugar. Bake uncovered in a 350-degree oven for 50 minutes.
Dust with powdered sugar and add sliced fruit.
Bacon Crispers — Ani Chaghatzbanian, administrative coordinator, Photonics Center
Quick, easy, and delicious!
1 can of water chestnuts
1 package of bacon (any kind)
1 box of brown sugar
1 box of wooden toothpicks
Lay out one slice of bacon, place one water chestnut in the middle of it.
Sprinkle brown sugar on top of water chestnut, wrap the water chestnut in bacon.
Sprinkle more brown sugar on top of wrapped bacon and water chestnutand stick toothpick in the middle of it to hold it together. Repeat forthe rest.
Place in oven at 350 degrees for about 10 to 15 minutes or until the bacon looks cooked.
Brown sugar should be caramelized when finished.
Smoked Salmon Roll — Linda Wilkins, lecturer, Center for English Language and Orientation Programs (CELOP)
Here's an easy recipe that makes a splash, despite so fewingredients. This recipe serves six people but can be adjusted easilyto accommodate more. It's a beautiful starter or a salad course.
Filling:
1 head of Chinese cabbage
1 medium onion, thinly sliced
2 garlic cloves, minced
1/4 tsp chopped FRESH dill (or cilantro)
1 tbl Dijon mustard
1/2 chicken bouillon cube or equivalent choice of flavoring
Canola oil for cooking
Sauce:
Mix together and set aside:
2 tbl fresh lemon juice
1 tbl Dijon mustard
1/4 cup olive oil
Dash of cayenne pepper
6 thin slices of smoked salmon
Steam 6 outer cabage leaves to wilt them, about 3 minutes.
Immediately cool down in a bowl of cold water.
Cut off thick core ends of the leaves, and shave off remaining thickness to allow for easier rolling.
Set aside.
Fry onion in canola oil until soft, then add about 6 thinly sliced cabbage leaves, then garlic.
Add bouillon while this is cooking until moisture is absorbed and veggies are slightly browned.
Transfer to a bowl, add minced dill (or cilantro) and mustard, salt and pepper.
Cool.
Divide cabbage filling into 6 portions.
Place 6 wilted cabbage leaves separately on countertop.
Place 1 slice of smoked salmon on each leaf.
Place 1 portion of filling on each salmon slice.
Roll up the cabbage leaf, starting at the thicker end. You don't need to fold in the sides — just make the roll open-ended.
Place rolls on a dish.
Recipe can be made six hours ahead. Cover and keep chilled. Warm to room temperature before eating.
Then serve one cabbage roll per plate per person, drizzled with a spoon of sauce and garnished with dill (or cilantro).
Pea Casserole — Tanya Deveau, senior program coordinator for science and engineering, Metropolitan College
I make this for my family on Thanksgiving and on Christmas. It's agreat vegetarian dish if you use the veggie stock instead of thechicken!
1 bag of frozen peas
1 large shallot finely chopped
2 cloves of garlic finely chopped
1 cup chicken or vegetable stock
1/2 cup of milk (whole, skim, or cream)
2 tbl butter
1 tbl extra virgin olive oil
3 slices of wheat bread ground in a food processor (or chopped)
2 handfuls of Parmesan cheese
1/2 pint of baby bella mushrooms sliced (do not wash mushrooms under water; instead, wipe with a damp cloth before slicing)
1 tsp dried or 1 tbl fresh tarragon
1 tbl grill seasoning or Mrs. Dash (original, garlic herb, or Italian)
Salt and freshly ground pepper to taste (pinch+ of both)
Nonstick spray
Preheat oven to 350 degrees.
In a large saucepan over med-low heat, add 1 tbl of butter and 1 tbl of extra virgin olive oil.
Add shallot and garlic and sauté until translucent (do not burn!).
Add remaining tablespoon of butter-melt.
Add mushrooms and seasoning, stir and allow to cook down (mushrooms will shrink and caramelize).
Sprinkle flour over the mushrooms, 1 tbl at a time, and stir, addingmore olive oil if needed. Allow flour to cook for 3-4 minutes (shouldbegin to thicken).
Slowly whisk in stock and milk, 1/2 cup at a time. Allow to come to a bubble and thicken.
Spray casserole dish with nonstick spray and set aside.
After roux has thickened to a stew-like consistency, add peas, stir and remove from heat.
Check seasoning and add where needed.
Pour contents into the casserole dish. Cover with bread crumbs andParmesan cheese. Drizzle top with oil (or spray with olive oil sprayerif you have one).
Bake the casserole for 15-20 minutes or until bread is toasted.
Jamaican Rice and Peas — Ny Martin, receptionist, BU Academy
Yes, this uses red beans, but the dish is traditionally named Riceand Peas! This is my version. Serves 8-10 as the starch in a Jamaicanmeal.
1 cup dried kidney beans, rinsed
5 cups water (approx.)
1 13.5-ounce can coconut milk
4 scallions, finely chopped
3 thin slices jalapeno pepper, chopped (or one Scotch bonnet, a variety of chili pepper, left quite whole)
3 cloves garlic, peeled and crushed
2 tsp dried thyme
2 cups long-grain white rice
1 1/2 tsp salt
1/2 tsp black pepper
Place the beans and 4 cups cold water in a 4-quart pot. Cover, bring to a boil, turn off the heat, allow to stand for 1 hour.
Drain, and return the beans to the pot. Add the coconut milk, onion, hot pepper, garlic, thyme, and 3 cups cold water.
Cover and simmer for 30 minutes until the beans are just tender. Drainthe beans, RESERVING THE LIQUID, and return them to the pot.
Add the rice, salt, and pepper.
Measure the reserved liquid and add enough cold water to make 4 cups total. Add the liquid to the pot.
Cover, bring to a boil, and reduce the heat to low. Simmer for 15minutes until the liquid is absorbed. Add more salt and pepper ifdesired.
Caramel Apple Cake — Bridget (CFA'12)
This is a delicious cake that requires a little caution — the caramelcan reach temperatures of over 170°C. Therefore it is important to takecare both when making the caramel and when removing the cake from theoven and the tin. It also is a good idea to place a tray with somegreaseproof paper on the rack below the cake, so that if any caramelescapes, it doesn't fall onto the bottom of the oven and burn. This canbe a pain to clean off.
For the caramelized apple:
4 apples
¾ cups of caster sugar
For the cake:
1 ½ cups flour
1 ½ tsp baking powder
½ tsp cinnamon
¼ tsp salt
½ cup vegan margarine
¾ cups caster sugar
1 tsp vanilla essence
3 tsp oil
¾ cups soy milk
2 grated apples
Slice the apples into approximately 12 slices.
Put the caster sugar into a frying pan over a medium high heat.
Stir the sugar as it starts to melt so that it doesn't burn. It willstart to melt, but there will be large chunks, so continue stirring.
The caramel will start turning a dark golden color. When all the lumpshave dissolved place the apples carefully into the pan and gentlystir into the caramel.
Make sure that the apples get completely covered by the caramel. Theapples will start to release liquid and start to softenslightly.
Take off the heat and allow to cool slightly.
Preheat the oven to 190°C (375F).
Line a springform pan with greaseproof paper and arrange the appleslices closely around the edge. Do another smaller circle in the centerto completely cover the cake base.
Pour a little syrup to cover the base of spring form pan. Set to one side.
Beat the butter, sugar, and vanilla essence until pale and the sugar has dissolved.
Add the oil a little at a time and beat well to ensure that it has been incorporated.
Sift the flour, cinnamon, and the baking powder together.
Fold the flour into the margarine mix.
Fold the soy milk into the mixture.
Grate the apples and fold into the mixture.
Pour the mixture over the caramelized apples.
Place in the oven and bake for 25 to 35 minutes or until a toothpick inserted comes out clean.
Remove from the oven and allow to cool completely, as the caramel will still be very hot straight out of the oven.
Once cool, flip the cake onto a plate and release springform pan. Take off the base and gently peel off the greaseproof paper.
Rum Cake — Kathleen S. Ferland, director of administration, Goldman School of Dental Medicine
Once you make this cake, everyone will want the recipe!
½ cup pecans
1 package (18.5 oz.) Butter Recipe Golden Cake Mix (Duncan Hines)
1 package vanilla instant pudding
½ cup light rum
½ cup vegetable oil
½ cup water
4 eggs
Grease bundt pan
Crumble pecans in bottom of pan
Mix cake batter, pudding, then add rum, and other ingredients.
Mix with beater for 2 minutes.
Bake at 325 for 50 to 60 minutes.
Immediately top with glaze while cake is still in the pan.
Cool for 30 minutes. Remove cake from the pan.
Glaze:
1 cup sugar
¼ cup light rum
1 stick butter
¼ cup water
Boil in small pan for 2-3 minutes.
Chocolate Bombe — Natalie Jacobson McCracken, executive director of publications, Development and Alumni Relations
Combine in equal number:
Cans of chestnut puree
Sticks of butter, melted
Small packages of milk chocolate chips, melted
Three of each makes a nice-looking bombe and serves a dozen or so.
Optional: add, to taste, a liqueur of your choice, such as orange- or cherry-flavored.
Pack into the deepest, smallest-mouthed bowl of appropriate size you have, lined with wax paper or plastic wrap.
Chill for at least 3 hours.
Just before serving, unmold on a colored plate and frost with unsweetened whipped cream.
Decorate as desired with shaved chocolate, chocolate curls (pull avegetable peeler along the side of a chocolate bar), or green and redcherries (sliver and make a red flower, for instance.)
Mocha Fudge Pie — Sarah Chapman (CFA'10)
My dad made this pie for every Thanksgiving and Christmas when I wasgrowing up, and I made it this year away from home for Thanksgiving.People were fighting over the leftovers!
1/2 c butter or margarine
2 squares (2 oz.) baking chocolate
2 eggs
1 c sugar
1/2 c flour
pinch of salt
1/2 tsp vanilla
2 tbl instant coffee
Preheat oven to 350 and grease a pie pan (no crust).
Microwave butter and chocolate in a small bowl for no more than 1 minute. Stir until completely melted.
Dissolve the instant coffee in a small bowl with about 1 tbl warm water.
In a mixing bowl, beat eggs.
Gradually add sugar while mixing, then one at a time add: flour, salt,vanilla, melted chocolate, and finally the coffee mixture. Mix well.
Bake for 20-25 minutes.
Cool completely (about 3 hours) and freeze.
Thaw for 10 minutes before cutting to serve. Use small slices!
Church Windows — Tracy Rider, director of admissions and student affairs, College of Fine Arts school of music
As soon as I was big enough to reach the stove, I made this easy and yummy treat with my mom!
1 stick of butter
1 12-ounce bag of semisweet chocolate morsels
½ cup raisins (optional)
1/2 cup crushed nuts, pecans or walnuts work best (optional)
1 bag of multicolored mini marshmallows
In either a double boiler over the stove or in a large bowl in themicrowave, melt the butter and chocolate morsels. Be careful not toscorch! Stir thoroughly.
If using raisins and/or nuts, stir thoroughly into the butter-chocolate mixture.
Allow the melted mixture to cool for 5 minutes.
Gradually stir in the mini marshmallows until entire bag isincorporated and all marshmallows are completely covered with chocolate.
Pour the chocolate-marshmallow mixture onto a large piece of heavy-dutyaluminum foil and shape into a log approximately 4 inches in diameter.Wrap tightly and place in the freezer.
When the log is completely frozen and you are ready to serve, removefrom freezer and slice with a warm serrated knife. These treats turnout looking like abstract stained glass windows, and they don't stay ona holiday cookie table very long!
Peppermint Bark — Amanda Mucci, human resources representative, Boston University Medical Center
This is one of my holiday favorites, and I make it every year for the office.
Nonstick cooking spray
1 pound white chocolate (I use white chips)
2 cups Rice Krispies cereal
1 package (about 8 ounces) hard peppermint candies, unwrapped
Spray a 10-by-15-inch rimmed baking sheet with nonstick cooking spray; line with a piece of waxed paper. Crush candies.
Place white chocolate in a heatproof bowl, set over a saucepan of simmering water. Heat, stirring occasionally, until smooth, 4 to 6minutes. Remove from heat; stir in rice cereal.
Transfer mixture to prepared pan; with a spatula, spread to edges of pan.
Sprinkle with crushed candy; with a piece of waxed paper covering theentire surface, press in gently (paper prevents hands from sticking tocandy and chocolate). Chill until firm, 20 to 30 minutes.
Peel waxed paper off. Break bark into pieces. Store at room temperature in an airtight container.
Note: To crush candy, place in a plastic bag; seal and wrap in akitchen towel (to prevent candy from piercing the bag). Use a rollingpin or skillet to crush candy into tiny pieces.