Day Tripping: 12 Hours in Ipswich
History, nature, and fun in a North Shore town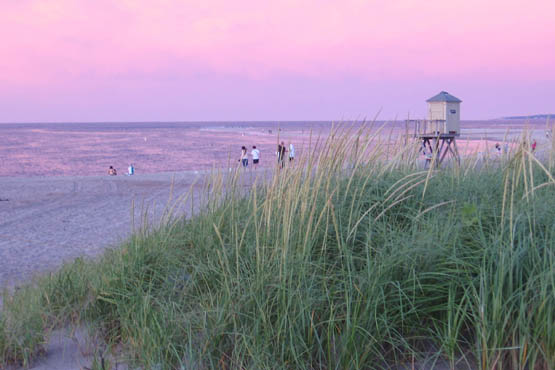 This story originally ran October 23, 2008; it has been recently updated to include new locations and current information.
The North Shore of Massachusetts boasts more than a dozen historic coastal villages, each with its own charms and attractions. Take a day or two to explore what lies beyond the big city. You may be surprised at what you find.
Just 30 miles northeast of Boston, Ipswich is the perfect destination for history buffs and nature devotees alike. Native American tribes that originally inhabited the area called it "Agawam," which translates into "a lowland, marsh, or meadow." Colonized in 1633 by John Winthrop, Jr., son of the first governor of the Massachusetts Bay Colony, Ipswich primarily remained a fishing and shipbuilding colony until the 1820s, when smugglers brought in the country's first stocking machine from England. Amos A. Lawrence established the Ipswich Hosiery Mills in 1868, and by the turn of the century, the town had become the largest stocking manufacturer in the country.
Ipswich's textile mills, like those across New England, shut down years ago. Today the town generates much of its income from tourism. Historians are drawn to the examples of early American architecture, and outdoor enthusiasts come for the surrounding parks and wildlife sanctuaries, which include Willowdale State Forest, Sandy Point State Reservation, and Crane Beach.
The easiest way to get to Ipswich is by the MBTA commuter rail. On weekends, the Newburyport/Rockport line departs North Station at 9:30 a.m. and arrives in Ipswich at 10:19 a.m. (Roundtrip tickets are $13.50 until July 1, 2012. MBTA prices will soon increase, so check the website for updates.)
The attractions are spread out, so you might want to bring a bike to get around. Expect to ride an average of 15 miles. If biking isn't your thing, campus car rental agencies include Budget, 95 Brighton Ave. (617-497-3608), and Enterprise Rent-A-Car, 996 Commonwealth Ave. (617-738-6003). Or go to BU Maps and search for the most convenient Zipcar location. During the summer months, the Ipswich Explorer shuttles passengers between downtown Ipswich and Crane Beach for a minimal fee.
10:30 a.m.—Get buzzed at Zumi's Espresso and Ice Cream
Jump-start your Ipswich adventure with a jolt of caffeine from Zumi's Espresso and Ice Cream (40 Market St., 978-356-1988). Specializing in free-trade organic coffees, cocoas, and chocolates, as well as ice cream from Attleboro-based Bliss Bros. Dairy, Zumi's is a favorite hangout among both locals and visitors. Try the Caramel Cloud Latte, Peppermint Mocha, or if you're a purist, a café au latte. Not a coffee drinker? A steaming mug of New England apple cider, with or without a drizzle of caramel, is for you.
11 a.m.—About town: Meetinghouse Green, Devil's Footprint, and Ipswich Riverwalk Mural
After leaving Zumi's, turn right and stroll along Market Street, heading north. After several blocks, you'll come to the heart of Old Ipswich, known as Meetinghouse Green. Settlers built the first meetinghouse here in 1634, and since then, six churches have stood in its place. Legend has it that in 1740, evangelist George Whitfield preached so powerfully against the fires of hell that the devil hurled himself from the church belfry, leaving his footprint embedded in the ledges nearby. It's said that it can still be seen today.
Head back toward Market Street, taking a moment to pop into some of the shops or to visit with friendly residents who will almost certainly regale you with anecdotes about the town. At Union Street, turn right and walk toward EBSCO Publishing. On the back of this former mill building you'll find an enormous mural painted by New England artist Alan Pearsall. At 1,700 square feet, the mural illustrates 350 years of Ipswich history and includes depictions ranging from the area's Native-American tribes and the town's first European settlers to the Massachusetts witch trials, the rise of the textile mills, the introduction of the automobile, and World War I.
Next you'll come to a pedestrian bridge that crosses the Ipswich River and connects the former mill complex to the South Main Street neighborhood. Take a moment to look at the Choate Bridge on your left. The bridge, built in 1764, is the oldest stone arch bridge in America.
11:30 a.m.—Step back in time at Appleton Farms
Established in 1638, Appleton Farms (219 County Rd., 978-356-5728) is one of the oldest continuously operating farms in the country and offers more than six miles of footpaths, bridle paths, and farm roads. Visitors will see rolling grasslands, grazing livestock, ancient stone walls, tree-lined carriage paths, and historic farm buildings. The 658-acre farm is currently maintained by the Trustees of Reservations, a Massachusetts nonprofit land conservation and historic preservation organization that maintains the farm's progressive agricultural traditions while caring for its woodlands, wetlands, and fields. The farm's 133-acre Great Pasture is home to one of the state's largest populations of rare grassland birds. Appleton Farms is open daily from sunrise to sunset. Interpretive tours and programs for families and adults are offered throughout the year. Admission is $3.
1:30 p.m.—Howl with the wolves at Wolf Hollow
Hunters drove the last free-roaming wolves from New England's forests nearly 100 years ago, and today, the American gray wolf remains at the top of the endangered species list. At Wolf Hollow (114 Essex Rd., 978-356-0216), a sanctuary and nonprofit educational center, visitors can observe a pack of gray timber wolves in a confined—but natural—setting. Admission ($7.50, children and seniors $5) includes a one-hour presentation and a chance to see interaction between the pack and the program directors. Don't forget to hit the gift shop on your way out. It's stocked with bumper stickers with the message: "Little Red Riding Hood Lied." Note: Open to the public, weather permitting, weekends only, with presentations at 1:30 p.m.; weekdays by appointment only for groups of 20 or more.
2:45 p.m.—Lunch at Russell Orchards
By now it's likely you're hungry, so head over to Russell Orchards (143 Argilla Rd., 978-356-5366) for a late lunch. The Russell family grows nearly everything it sells, including 25 varieties of apples and a large selection of other fruits and vegetables. The honey is harvested from their hives, and the maple syrup is tapped from their maple trees. Buy a loaf of homemade bread and some sandwich fixings, or if you're feeling less ambitious, purchase a veggie wrap, with hummus and fresh vegetables. For dessert, try a hot apple-cider donut or a fruit pie. Customers over 21 may also want to visit the wine-tasting table, where they can sample two dozen varieties of fruit wines and hard ciders. Before you leave, walk around the grounds to see the geese, pigs, sheep, goats, horses, and ducks.
4 p.m.—Explore the grounds of Castle Hill and Crane Beach
A trip to Ipswich is hardly complete without a visit to Castle Hill (290 Argilla Rd., 978-356-4351) and adjacent Crane Beach. Castle Hill, a 59-room Stuart-style mansion that overlooks the pristine sands of Crane Beach, was once the summer estate home of Chicago industrialist Richard T. Crane, Jr. The house—and the 1,200 acres of beachfront, dunes, and maritime forest surrounding it—is now maintained by the Trustees of Reservations. Visitors may take a tour of the Great House during the summer ($12 adults, free for children) or wander the grounds (fees vary), which include four miles of walking trails, until sundown. The area is home to a diversity of wildlife, including deer, fox, turkey, and songbirds. You may even spot a great horned owl or a red-tailed hawk.
After exploring, head down to Crane Beach for a brisk early evening stroll along the surf. The white sands stretching for miles along both sides of Castle Neck form one of the most picturesque beaches in New England. Note: Parking fees vary throughout the season. Check out the Trustees' website for details. Bicycle parking is $2 year-round.
6:30 p.m.—Dinner at the Clam Box
Fried clams are to New England what barbecue is to the South, and there's arguably no better place to get fried clams than the Clam Box (246 High St., 978-356-9707). A nationally recognized landmark (and not only because it's shaped like a giant box of clams), this Ipswich eatery feeds thousands of hungry customers every year. While the clams are definitely the most popular menu item, fried shrimp, scallops, oysters, calamari, and haddock are available as well. The portions are huge—the platters come with a choice of two sides: fries, onion rings, or coleslaw—and the prices, while not cheap, are reasonable. Be prepared for a wait—the lines at the Clam Box are almost as legendary as the food.
8 p.m.—Ice cream at White Farms Homemade Ice Cream
After all that fried food, you'll need something smooth and creamy and cold. You'll find it at White Farms Homemade Ice Cream (326 High St., 978-356-2633). You'll know you're at the right place by the giant cow on the roof. Established in 1958, White Farms makes all of its ice cream on site. There are more than 60 flavors to choose from, including Drew's Dino Crunch (blue vanilla ice cream with marshmallow and Oreos) and Cow Trax (vanilla ice cream with hot fudge and peanut butter cups). Stick with the small cup; the large is an entire pint.
Explore more day trips from Boston here.