Comm Ave Construction Nears Final Stretch
Project will be complete by summer's end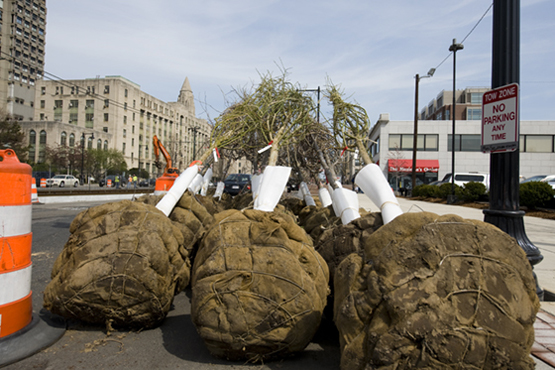 The barrels and traffic cones that march up Commonwealth Avenue from Kenmore Square have become such campus fixtures that some might suggest changing the University's colors from scarlet and white to orange and white. But the construction project that has snarled vehicular and pedestrian traffic along Comm Ave for the past two years is drawing to a close.
"Everything will be completed by move-in weekend in August," says Michael Hathaway, assistant vice president for campus planning and construction. "And a lot of it will be finished in time for Commencement."
While 50,000 people are expected for Commencement, on Sunday, May 18, Hathaway does not anticipate any problems. "Of course, safety and accessibility are our primary concerns for the weekend," he says. "But we have never had any problems in the past."
The project, which began in summer 2006, is part of a Massachusetts Highway Department effort to spruce up Commonwealth Avenue and make it more pedestrian-friendly. Last winter, crews eliminated one of three traffic lanes on the street's westbound side, as well as the left-turn lane at Sherborn Street. Workers widened the sidewalks and installed raised granite planters, benches, and bicycle racks. Landscaping crews are now planting a total of 200 trees to create a green buffer between the buildings and the street.
"When everything is done, it's going to look like a completely different campus," Hathaway says. What had been a mile-long stretch of concrete and asphalt between Kenmore Square and the BU Bridge will more closely resemble the Emerald Necklace, as the city's parkways are known, designed by renowned 19th-century landscape architect Frederick Law Olmsted.
The most significant changes involve major upgrades in pedestrian safety, Hathaway says. The sidewalks and crosswalks were widened to better accommodate the area's high volume of foot traffic, and disability access was enhanced. In addition, a travel lane is being added to the westbound corner of Commonwealth Avenue at the BU Academy parking lot area to help minimize traffic congestion and make pedestrian crossings easier.
Although the construction project is a state initiative, BU has contributed more than $3 million toward the improvements, according to Hathaway. The money paid for irrigation and landscaping, the granite planters, decorative bricks, benches, bike racks, trash receptacles, plants, trees, and soil.
Throughout the project, the University has remained in regular contact with the state's contractor, McCourt Construction. "We couldn't have asked for a better team," Hathaway says. "They work around our academic schedule, and they've been very cooperative during major University events, such as move-in weekend, Matriculation, and Commencement."
When students return for fall semester, they'll find flowering trees and decorative shrubbery in place of construction equipment along Commonwealth Avenue. As for the orange barrels — they'll be only one street over. In September, a two-year utility improvement project begins on Bay State Road.
To learn more about the construction project or to receive e-mail updates, visit the Commonwealth Avenue Improvement Project Web site.
Vicky Waltz can be reached at vwaltz@bu.edu.