College 2.0
Web site for helping revamp undergraduate education launches today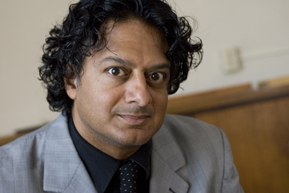 Undergraduate education at Boston University has a new address. It's a Web site, launching today, that was initiated by Victor Coelho, BU's associate provost for undergraduate education and a professor of musicology in the College of Fine Arts.
The new site includes reference material and a blog about developments in undergraduate education, along with multimedia tours of courses, a keyword-based course selection tool, and pages for students to post their creative work. It is meant to reflect and support ongoing efforts at BU and many other universities to revamp undergraduate education, Coelho says, initiatives set in motion a decade ago by a Carnegie Foundation for the Advancement of Teaching report that accused large research universities of neglecting undergraduate education in favor of their research agenda.
"It's a very public site that offers a wide range of information that can express what an undergraduate experience is from the point of view of both students and administrators," says Coelho. Collaborators include faculty, staff, and students, among them Aaron Caine, BU's director of academic information technology, Pam Sarian, assistant director of New Media, Scott Dasse, creative director of New Media, Tom Pecoraro, Web project manager in the Office of the Provost, and Hunter Young (MET'08).
For administrators and faculty, including those on a new undergraduate education task force chaired by Coelho that will begin meeting this summer, the site offers a digital library of resources on how to structure and enrich the undergraduate experience, including strategic reports created by other universities. Coelho will also maintain a blog on the site with news items devoted to undergraduate education as well as updates from his monthly meetings with the BU Student Union.
Students, meanwhile, will be able to use a keyword-based course selection tool to explore interdisciplinary interests and experience video tours of different classes (currently only three classes are available on the site, but Coelho says his goal is to have 100 such tours online by the end of the year). There's also a page devoted to undergraduate funding opportunities, including links to the BU Office of Fellowships and Scholarships and grants offered by the Undergraduate Research Opportunities Program. Finally, the site has a link to BU's new podcast service, run through Apple's iTunesU — now offering BU Today multimedia, videos of special lectures from BUniverse, BU athletics highlights, and select radio programming from WBUR, BU's National Public Radio member station — for downloading and subscription via iTunes. Coelho's aim is to use the service as an extended learning tool at BU, whereby downloadable lectures, classroom discussions, presentations, and demonstrations could support his ideal of a "multimedia, creative, and thoroughly portable classroom."
Coming soon will be what Coelho calls arts and science "blocks," where students will be able to post their own scientific findings, inventions, recordings, art, poetry, and videos. "It will be like a student YouTube," he says, "or you could see it as just a really good archive of student postings."
"What needs to happen in undergraduate education is to create a sense of community and citizenship to BU," he adds. "You can't get this just from a Web site, of course. But after you've navigated through and gone on a little bit of an academic ride, you can say, it's good to be here."
Chris Berdik can be reached at cberdik@bu.edu.