Terrier Hockey Season Opens in Alaska
Experienced team takes on Robert Morris in Nye Frontier Classic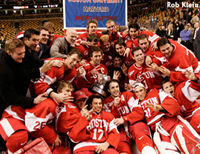 The BU men's hockey team, ranked third in the Hockey East preseason coaches' poll, is poised to begin its 2007–2008 campaign this weekend in Alaska.
The Terriers kick off their 87th season of competition today, October 12, against Robert Morris University in the opening round of the Nye Frontier Classic, hosted by the University of Alaska Anchorage. BU will play the UAA Seawolves the following night.
This year's team is long on experience, with nine seniors. The seven freshmen on the team are considered among the best in the country.
"Our philosophy this season is pretty simple," says BU head hockey coach Jack Parker (SMG'68, Hon.'97). "We need to be more determined offensively and take care of business defensively. We want to be more balanced instead of relying so much on defense."
BU is looking this year to fill the loss of Terrier assistant captain John Curry (CAS'07), who was widely considered the top goaltender in the country last spring. He received Hockey East Player of the Year honors and was the first BU goalie in 23 years to be named to the All-America First Team. He was signed as a free agent by the Pittsburgh Penguins on July 1.
Two returning goalies will likely see time between the pipes this year. Karson Gillespie (CAS'08) started two games last year and played in four. A two-time league Honor Roll selection, Gillespie had a 2-0-1 record, a .956 save percentage, and 1.00 goals-against average. Brett Bennett (CAS'10) made his first collegiate appearance in January, racking up 17 saves in a 2-1 win over Merrimack.
"Despite having to replace one of the greatest goaltenders in BU history, we definitely have depth and skill at the position," says Parker. "After sitting behind an All-American, it's their time to shine."
Gillespie will likely get the first opportunity to win the job, according to Parker. "He's waited a while for this chance," he says. "He and Bennett will each see time in the first couple of months of the season and a lot will be riding on their performances."
BU's crowning achievement last year was its third straight Beanpot title — a dramatic overtime victory over Boston College. After fighting to a 2-2 tie in regulation, the Terriers lit the lamps 5:06 into overtime for their 28th win in 55 Beanpot tournaments. 
But the Terriers came up short in their effort to defend their Hockey East title, falling to BC 6-2 in the semifinals. And after receiving an at-large bid to the NCAA tournament, 9th-ranked BU lost to the eventual national champion, 10th-ranked Michigan State, by a score of 5-1 in the Midwest Regional on March 23.
BU returns 13 forwards this season. Pete MacArthur (CAS'08) is looking to follow up a successful 2006–2007 campaign that saw him lead the team in scoring, with 16 goals and 20 assists. MacArthur scored in several key games, including in the 2-0 win over Vermont to force game three of the league quarterfinals. He also scored against Northeastern in the opening round of the Beanpot.
Chris Higgins (CAS'09) was second on the team in scoring, with 13 tallies and 19 assists, and was one of the top Hockey East players. He had eight two-point games and was named to the Hockey East Honor Roll six times.
Bryan Ewing (CAS'08) returned from an injury in the season opener to score 9 goals and 16 assists, for 25 points. He made four game-winning goals, had six two-point games, and was a Hockey East Honor Roll selection four times. Jason Lawrence (CAS'09) finished sixth on the team in scoring, with 5 goals and 13 assists, including 4 power-play goals. He was named to the Hockey East Honor Roll after scoring in the overtime win over Vermont in the league quarterfinals.
Brandon Yip (CAS'09) posted an 11-point season on 5 goals and 6 assists. He missed 16 games because of injuries, but came back to score two overtime game-winning goals in the conference playoffs. He was a two-time Hockey East Honor Roll recipient. Luke Popko (SMG'10) last year led all freshmen with four goals and five assists. He was invited to the 2007 U.S. National Junior Evaluation Camp.
Ryan Weston (SHA'08) played in all of last season's contests, notching two goals and six assists. Dan McGoff (CAS'08) skated defense until midway through the season, when he was moved to right wing on the fourth line. He was cowinner of the team's Most Improved Player award. John McCarthy (CAS'09) scored two goals and notched three assists, seeing action in all 39 games. McCarthy, McGoff, and Weston received the Friends/Albert Sidd Award for unsung heroes.
Brian McGuirk (CAS'08) finished the season with one goal and four assists. He found the back of the net in overtime against BC to claim the Beanpot championship for BU. He was named to the league Honor Roll on February 19.
Zach Cohen (CAS'10), Steve Smolinsky (CAS'09), and Craig Sanders (CAS'08) complete the roster of returning forwards.
Among the five defenders from last season's team is Matt Gilroy (CAS'09), who was fourth for the Terriers in points on 9 goals and 17 assists. He was named Second Team All-American, a Hockey East First-Team All-Star, College Hockey News Second Team, and New England All-Star. He also was corecipient of BU's Most Improved Player award and made the league Honor Roll three times. Brian Strait (CAS'10) posted a solid freshman campaign, with three goals and three assists. Ryan Monaghan (CAS'08) played forward in five games last season, but has made the transition to defense for his senior season. Eric Gryba (CAS'10) and Kevin Kielt (SHA'08) make up the remaining defenders.
BU also welcomes seven freshmen to its roster: Kevin Shattenkirk (CAS'11), Joe Pereira (CAS'11), Nick Bonino (CAS'11), Victor Saponari (SMG'11), Colby Cohen (CAS'11), Adam Kraus (CAS'11), and Colin Wilson (CAS'11).
Abby Jordan can be reached at ajordan@bu.edu.