Taking Care of Health Care
The acting surgeon general of the U.S. Army on health care and the war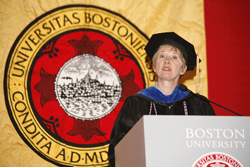 Major General Gale Pollock (MET '84) knows the meaning of dedication. When she was 17, she enlisted in the Army to become a nurse, and for the next 35 years she cared for the men and women who serve their country, eventually rising to chief of the Army Nurse Corps. In March 2007, after the Washington Post criticized the facilities and the care at Walter Reed Army Medical Center, Pollock was asked to temporarily replace the outgoing commanding general of the U.S. Army Medical Command and Army surgeon general. Pollock, currently the acting surgeon general of the U.S. Army, is the first woman and the first nonphysician to hold this position.
On May 18, Pollock, who earned a master's degree in business administration through BU's Metropolitan College while stationed at a hospital in Germany, was the keynote speaker at MET's 2007 convocation. BU Today spoke to Pollock about the importance of continuing education and how health care, both military and civilian, will be changed by the long war on terrorism.

BU Today: Walter Reed Army Medical Center has been the subject of much discussion lately. What are the challenges the institution faces?
Pollock: The entire American health-care system is facing challenges in the form of a transition in focus from inpatient to ambulatory care. We have not, as a nation, taken into consideration what should be done for patients who have chronic needs. I think that we're going to be able to reset the azimuth and come up with recommendations not only for implementation across the entire Army and Department of Defense, but for the nation, on how we can better care for the men and women who need health care in our nation.

Do the same challenges you're seeing at Walter Reed Army Medical Center extend to other veterans hospitals?
As far as case management in rehabilitative support, long-term care, management of long-term care, management of assisted living care, that's all folded into that ambulatory focus we didn't take into consideration — that chronic requirement or that acute rehabilitation need. So I think you would find some of these challenges in any health-care system — whether it's a government system or a civilian system.
Does the Army Medical Department provide a model for public health care?
We often have provided a model because of our requirements for the education of our staff and for the standards we hold them to for licensing and credentialing. I think that we're going to really step forward to lead the nation in the chronic care piece and the rehabilitative piece. I believe this is a long war on terrorism. I think it's very, very important that we be able to be a role model for the nation if and when we have communities here that need to deal with these tragedies we're seeing overseas.
Does the war in Iraq — with its high number of wounded soldiers and amputees — require a ramping up of a particular kind of medical care?
The amputee number is not as high as people would lead you to believe. It's under 700, whereas people think that it's in the tens of thousands. What I think people are missing in this talk of "an unexpected number of casualties" is that we're saving lives on the battlefield. We have more casualties than we would have had in the past, because in the past we would have had deaths. I would much rather stand with a family and say, "This is a tough road, but we're going to help you with the rehab, and we're going to bring your soldier back to a high quality of life," than stand with them in a cemetery and hand them a flag.
What will be the biggest challenge — in terms of injury — as a result of this war?
Mild and moderate traumatic brain injury. That's still a work-in-progress, because although we would like to have perfect solutions for it now, we're just starting to work through that. Just like when a new cancer is identified, you'd like to be able to offer people the cure right away, but you have to learn a lot about it before you can figure out how to treat it.
How did you become associated with Boston University?
The Army moved me from San Francisco to Landstuhl in Germany in 1982. I was in Germany three or four days and decided that since I wasn't going to be doing all of the extra work that I had done while I was in the United States — I had worked a couple of extra jobs to see what the civilian world was like — I would sign up for a master's degree in business administration through Metropolitan College.
Why business administration?
I was kind of disgusted with health care at the time. I had been out in California, and I was very interested in health promotion and wellness, and I was aware of how much money we spend on people's misery rather than on preventing misery. I thought, if you're going to try to make changes to this system, you're going to have to try to understand the financial side to it, and a master's in business will help you to do that. Then I went on to Baylor University and got a master's degree in health-care administration.
How are these degrees helping you today?
Right now, I'm the acting surgeon general [of the Army], which means I'm responsible for the health care of about 3.5 million people, and the budget I'm dealing with is about $20 billion a year. Basically, I'm running an organization that would be in the top 50 corporations, in terms of size and finance, in the nation. All the different pieces of education I've been able to get contribute to my ability to manage what is a very demanding position.
Have you found any challenges to being a woman in the Army?
I haven't found that it's an issue. As long as you're willing to do the work and do it well, we don't really care who does it.

Why did you become an Army nurse?
I grew up in a pretty rough house. My father drank, and he was very violent. But as odd as my father was, he remembered what it was like when he was in World War II and was away from home and someone offered him a homemade meal. My mom was a fabulous cook, and so he would bring soldiers home for Sunday dinner.
One of the soldiers he brought home was older, in his 20s, and he just felt safe to talk to. I shared with him that I was so afraid with what was going on. And he was really the first person who encouraged me. I held onto Robin like the knot at the end of my rope. He went to Officer Candidate School and then to Vietnam and had his leg blown off there. But the Army Medical Department brought him home alive. I joined the Army to make sure that that happened for someone's loved one. And that's what gets me out of bed every day — that if I do my job well, someone else gets to have that very special person come home.

Nicole Laskowski can be reached at nicolel@bu.edu.