From Press Time to Tee Time
BU People: SMG's John DiCocco parlays publications expertise to the GolfGuide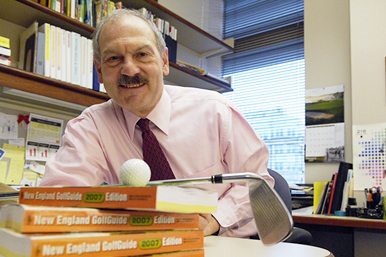 He doesn't have an M.B.A., but John DiCocco certainly seems to have picked up the entrepreneurial spirit at the School of Management. DiCocco, the school's publications manager since 1993, keeps busy in his job as editor of SMG's alumni magazine, Builders & Leaders, and a multitude of other publications for the undergraduate and graduate schools. But he has a sideline, and the putter behind his door gives a hint of it: he's also publisher of the New England GolfGuide.
The links have long had allure for DiCocco (COM'81). He started playing golf as a teenager, but dropped it in his 20s. In the early 1990s, he was back in the game and found it was tough connecting with other golfers — and getting tee times. So in 1991 he formed the Tour of Greater Boston, a traveling tournament club for amateurs. He made the initial arrangements with courses and booked about 20 tournaments. With only 39 players the first year, it turned out to be a loss leader, but the next year 140 players joined, and it grew steadily. "Mostly it was a labor of love, to meet golfers, to have competition — all the benefits of country clubs without the high cost," he says.
After a few years he sold the tour, but then was brought in again, this time with new partners. In the meantime, he'd met the publishers of GolfGuide and began editing the annual book. He received right of first refusal to buy the GolfGuide from its elderly owners and mentioned it to his colleague Mark T. Williams (GSM'93), SMG executive-in-residence.
"Mark's a golfer, too, and one day I started talking about the book and the possibility of buying it," DiCocco says. "Mark's an investor in four or five companies, and he was interested. I had editorial expertise, but not money backing. We had about a year to talk about it and decided to do it." So DiCocco sold his share in the Tour of Greater Boston and together with Williams took the plunge two years ago.
The 2007 edition, their second book as publishers, is now out. "It's very different being the publisher than the editor," DiCocco says. Now he sells ads and has to sell the book — and distribution is the key, he's finding out. "We're dealing with Barnes and Noble and Borders, and being a one-book publisher, we're totally at everyone's mercy. It's been really interesting," he says with a laugh. "But now we know the cycles and who to talk to, so we're going to have a decent year."
The business has its perks. The guide rates all the courses covered, and "we have to go play them," DiCocco says. For the 2007 edition, he played the public courses in Connecticut; this coming year it's Maine. "It's a miserable job," he says, "but someone's got to do it."
When he's not golfing, or thinking about golf, he's thinking about BU. In fact, he's had two jobs here. He originally worked in Admissions in the late '70s and came back at the invitation of SMG Dean Louis Lataif (SMG'61, Hon.'90) to run  the school's publications and communications office. His first writing assignment for the alumni magazine: go to Venice and interview the Benettons, who were parents of SMG students. It was a good omen.
For Builders & Leaders, he often interviews alumni business stars. His favorite interviews? DiCocco hems and haws a little but settles on four: Michael Bronner (SMG'82), founder of Digitas, "a fabulous guy, very bright, very driven, but so low-key. J. Crew CEO Mickey Drexler (GSM'68), who's in the most recent issue, was the most fun interview I've ever done. He's a big shot in the company, but he's very self-effacing in many ways. And there was Charlie Lax (SMG'82), a venture capitalist with GrandBanks Capital, and Ed Zander (GSM'75, Hon.'05), CEO of Motorola, a great guy."
It's their business stories that attract DiCocco to these leaders. "It's fascinating how many ways people can generate profits, that there are so many models, even within the same industry — it's just fascinating," he says.
Taylor McNeil can be reached at tmcneil@bu.edu.