Creating a Better Workplace
Rachel Neuman (SAR'07) recently organized an Ergonomics Day at the Massachusetts Statehouse.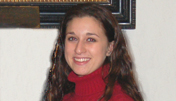 As a student in Sargent College's physical therapy doctoral program, Rachel Neuman (SAR'07) knows more than the average person about workplace comfort and how it relates to overall health. She recently put her knowledge to good use, organizing an Ergonomics Day at the Massachusetts Statehouse for her third-year project.  
Ergonomics, the applied science of how equipment design can increase productivity and minimize fatigue and discomfort at work, has greatly interested state legislators, according to Neuman. "There are laws out there, and a lot of them have to do with increasing awareness in the workplace," she says. She hopes lawmakers eventually will require ergonomic assessments of all workplaces.
While the public was welcome at the December event, Neuman geared topics to legislators, who were able to learn the art of the proper meet-and-greet at a handshaking station. In all, Neuman set up nine stations, which included information on such topics as lighting, computer workstation design, backpack use, and current research on ergonomics.
Neuman hopes the event made people more aware of the importance of ergonomics. Sometimes, she says, all it takes is a quick adjustment of a chair and a computer monitor to create better posture and to improve productivity. "Be aware of yourself and how you're sitting," she advises, "and what you can do to your surroundings to make yourself sit better."

Brittany Jasnoff can be reached at bjasnoff@bu.edu.