Trumpet Ensemble honored in national competition
Group to perform winning piece at CFA today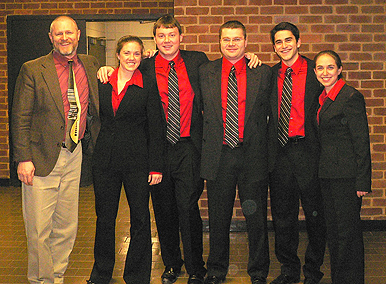 Internationally known trumpet soloist Terry Everson isn't one to blow his own horn, but the College of Fine Arts assistant professor has plenty to say about the skills of his students, who took home a second-place prize last week from the National Trumpet Competition, held at George Mason University in Fairfax, Va. The honor, awarded for the Trumpet Ensemble's rendition of Idea Number Twenty-Four, which was written by Everson, includes a $2,500 check. The group will perform the winning piece again today, March 22, at a school of music showcase recital in the CFA Concert Hall at 12:30 p.m. The event is free and open to the public.
Click here to listen to an 8-minute recording of Idea Number Twenty-Four performed at last week's competition.
 
BU soloists took their share of prizes as well. Mark Mashburn (CFA'07) placed second in the masters division with his rendition of the William Lovelock Concerto, earning him a $1,250 prize. "The first prize in the masters division went to Gareth Flowers, who is a finalist for the New York Philharmonic right now," says Everson, "so there's certainly no shame in coming in second to someone of that caliber." Soloist Kyra Sovronsky (CFA'07) placed fifth in the college division, winning $500, with a performance of the Jean Francaix Sonatine.
Everson gives the ensemble credit for an impressive performance of his Idea Number Twenty Four. "When you've got a group of people who can play almost anything you can put in front of them, it encourages creativity when you write," he says. "This is a seven-minute piece, and I wrote almost every hard thing I could think of into it. It includes a number of different styles. The variations went everywhere, from murky and mysterious to very technical to a salsa variation. In my opinion, it was far and away the hardest piece that any of the groups played."
Everson says that ensemble members Mashburn, Sovronsky, Karin Bliznik (CFA'06), Kevin Maloney (CFA'07), and Peter Ajemian (CFA'06) played the complicated song superbly, placing higher in the ensemble division than fellow finalists the University of Oklahoma, the Cincinnati Conservatory, DePaul University, Sam Houston State University, and the University of Kansas. Grand Valley State College, of Allendale, Mich., took first prize. "These are schools that don't immediately come to mind when you think of great college music programs, but their teachers and students are talented," he says. "And they all have incredible trumpet programs."
 
For BU, this is the second year in a row of extraordinary honors. At last year's competition, the Trumpet Ensemble was a finalist, a BU undergraduate placed second, and a BU master's student finished fourth in their respective categories. Everson points out that although none of his trumpet players placed first this year, they put the collegiate trumpet world on notice for the 2007 event. "One trumpet professor I met said that he's been looking for a place to send his students to a graduate school where they will improve both as trumpeters and as people," he says. "BU is very high on that list."
Everson, who came to BU in 1999, earned his bachelor's and master's degrees at Ohio State University and went on to perform with a variety of ensembles, including the Chestnut Brass Company, the Kentucky Jazz Repertory Orchestra, the Lexington Philharmonic Orchestra, and the Lexington Brass Band. He was also a substitute musician with the Philadelphia Orchestra and has appeared with the Boston Symphony Orchestra and the Boston Pops. He has taught at the University of Kentucky, Asbury College, the Lutheran Music Program, and the Philadelphia College of Bible.
"I have a great group of students at BU," he says. "They go to hear each other play, and they like to get together. It's unlike the atmosphere at many schools, which is often tense because everybody's competing against one another. At BU the trumpet players are mutually supportive."