SMG rises in rankings
School moves up three spots to become 37th best U.S. undergrad business program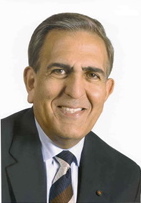 The Boston University School of Management continues to rise in the U.S News & World Report ranking of best undergraduate business programs. Up three places from last year, SMG was recognized as 37th in the United States this year among the more than 1,600 U.S. schools offering undergraduate business degrees. The undergraduate program in management, which was unranked last year, is rated 24th in the country.
"This outstanding recognition is a tribute to our faculty and students, who uniquely integrate the art, science, and technology of business," says Louis Lataif (SMG'61, Hon.'90), dean of SMG. "Our undergraduates are able to achieve their career goals with a holistic understanding of business operations that prepares them for the rigors of leadership."
Lataif describes the undergraduate program as "unique in its approach to teaching business students to think systemically, as well as functionally, about business problems and issues." While pleased that external ranking agencies continue to elevate SMG's placement amongst business schools, Lataif says "the rankings lag reality by a decade or more."
"A large number of business schools are now attempting to introduce curricular innovations that this school launched more than a decade ago and which we've refined many times since," he says.
Owen Dorney (SMG'10), a business management major, says SMG's focus on preparing students for the workforce and its prestigious reputation among business schools in the United States were major factors in his decision to attend BU.
"I knew SMG was a great school, but I'm really impressed with its recent ranking," Dorney says. "I'm confident that SMG will prepare me well for life after college because of its superb faculty and courses, which have good application to the real world."
The U.S. News and World Report rankings are based on surveys of deans and senior faculty at undergraduate business programs accredited with the Association to Advance Collegiate Schools of Business. The magazine's national ranking is the second this year for SMG's undergraduate program. In April, Business Week placed the school 15th among U.S. business schools in academic quality and 30th overall.
Sandra Procopio (SED'89), assistant dean for undergraduate programs, predicts that the school's standings will continue to rise. "Of course we believe we are a preeminent school of management," she says, "much stronger than even the constantly improving rankings indicate."
Unlike at most business schools, the SMG undergraduate program stays on top by teaching management as a system, Procopio says, helping students to understand the variety of forces that act on and within a business or organization.
"Our curricular goal is to teach an understanding of the critical interrelationships of various functions within organizations," she says. "That's part of the art of business, historically overlooked by schools of business."
In February, the Financial Times ranked SMG first in the United States and fifth in the world in terms of career progress. To prepare for life in the business world, SMG students work in teams to research, develop, and present complex projects, often on assignments from real-world clients. The school introduces students to career services from the beginning of their studies with courses such as Managing Your Career Path.
"Students learn early on the importance of the tools needed to make oneself ready for the competitive job recruitment cycle," says Procopio. "The Feld Career Center has a number of dedicated staff who work strictly with undergraduates, from freshman year onward."