Self-Portrait, Poem Reflect Mysteries of Passion
Matt Convente (CFA'09) seeks to illuminate intangible love.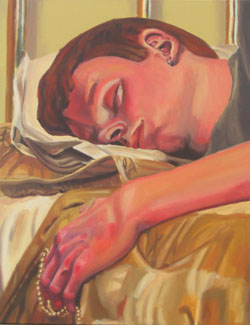 Graphic design student Matt Convente (CFA'09) strives to offer a connection between subject and viewer in all of his work, while simultaneously evoking a sense of personal reflection. "Fine art and photography enable me to capture moments that would otherwise go unnoticed," he says. "They allow viewers to see the world through my lens."
In his self-portrait I Have Already Found Her, Convente examines love and the uncertainties that surround it. "Experiencing love can be a wonderful feeling, but yearning for intangible love can often be disheartening," he says. "To me, the ultimate meaning of the painting is symbolized by the pearls I am holding, because they offer a sense of mystery."
In addition to expressing himself through visual means, Convente writes short poems that correspond with his artwork. The poem that goes with I Have Already Found Her reads as follows:
        Searching for the right one
        Is not as daunting as it seems
        Because I have already found her,
        Yet I only see her in my dreams.
"The line, 'Yet I only see her in my dreams' relates directly to the theme of intangible love, thus better adhering the painting to the poem and vice versa," Convente says.
The featured artwork was selected by the BU Art League, a student-run group based in the CFA school of visual arts. The organization helps undergraduate student artists learn more about the art world than they might normally learn in the classroom. The Art League tries to build a strong community through monthly meetings, exhibition opportunities, and a monthly newsletter. For more information, contact league founder Anne Albagli (CFA'08) at anniea@bu.edu.
Vicky Waltz can be contacted at vwaltz@bu.edu.