October
A translation by Grecia Alvarez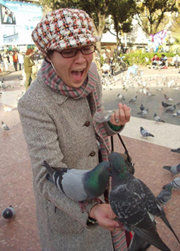 BU Today regularly publishes pieces of student scholarship and creative work. Grecia Alvarez (CAS'07) hopes to use her education in English and Spanish literature to work as a librarian in a Spanish-speaking country. She is from Miami and is passionate about prodemocratic movements in Cuba. She has been a contributor to, and editor of, Pusteblume, a student journal of translation, and has also contributed to The Journal of the Core Curriculum.
The translation of this poem by prolific Spanish poet Juan Ramón Jiménez is reprinted from The Brownstone Journal No. 13, Spring 2006, BU's journal of undergraduate scholarship and research. Published under the auspices of the Undergraduate Research Opportunities Program, it can be found online at http://bu.edu/brownstone. Jiménez (1881–1958), who received the Nobel Prize in 1956, was a principal collaborator, along with Baudelaire, Valéry, and Guillén, in the development of "poesia pura." This concept of "pure poetry" turned away from what its proponents decried as the convention and affect of Romanticism, striving for an unornamented and more genuine poetic work.
October
By Juan Ramón Jiménez
Translated by Grecia Alvarez
I was laying on the ground, facing
The infinite countryside of Castile,
Enveloped by autumn in the yellow
Sweetness of its clear setting sun.
Slowly, the plough, split in parallels
The dark earth and the simple
Opened hand released the seed
Into its honorably broken bosom.
I thought I'd rip out my heart, and put it,
Full of its high and deep feeling,
In the wide and tender furrow of dirt;
To see if once broken and planted
The spring might show the world
The tree of pure and eternal love.
Octubre
By Juan Ramón Jiménez
Estaba echado yo en la tierra, enfrente
Del infinito campo de Castilla
Que el otoño envolvía en la amarilla
Dulzura de su claro sol poniente.
Lento, el arado, paralelamente
Abría el haza oscura, y la sencilla
Mano abierta dejaba la semilla
En su entraña partida honradamente.
Pensé arrancarme el corazón, y echarlo,
Pleno de su sentir alto y profundo,
Al ancho surco del terruño tierno;
A ver si con romperlo y con sembrarlo,
La primavera le mostraba al mundo
El árbol puro del amor eterno.