Meet Wan Shan (Lily) Chang
Wan Shan (Lily) Chang, from Thailand, is anxious to see what her dorm room will be like.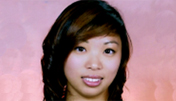 Name: Wan Shan (Lily) Chang
From: Thailand — originally from Taiwan
School: School of Management
Major: Finance
What are you most excited about coming to college?
I'm really excited about the courses, joining clubs, participating in activities and sports, and also dorm life.
What are you most nervous about coming to college?
I'm nervous about my dorm and what my room will be like and going to a new environment with all new people.

What kinds of activities do you want to become involved in?
I'd like to become involved in student government and intramural or varsity sports.
What is one of the goals of your first year at BU?
Meet all different kinds of people and make good friends, get used to the school and the area, and study hard and play hard.
What will be your first stop when you start exploring the city of Boston?
My dorm and maybe the shopping mall!
How are you spending your summer vacation?
Very effectively — traveling around Asia and spending most of my time with family and friends.