Global performances for a global legacy
Irish steppers, gospel choir, and Ghanaian dancing to honor King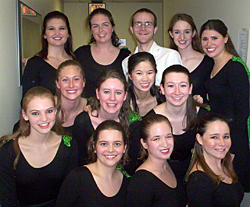 On Martin Luther King, Jr., Day, Boston University will honor King (GRS'55, Hon.'59) as the leader of a civil rights movement with international roots and continuing global reach. Free and open to the public, A Movement Beyond Borders will be held in Metcalf Hall of the George Sherman Union from 1 to 2 p.m. on Monday, January 16.
This transcendent theme will be sounded from the first student reading, King's essay on Mohandas Gandhi, to the keynote address by Nobel Peace Prize winner John Hume, an admirer of King and the chief architect of the 1998 peace accords in Northern Ireland. A diverse lineup of student groups will sing and dance during Monday's event.
"Martin Luther King worked a lot for American civil rights, but his work has had a global impact," says Anitza Guadarrama-Tiernan, assistant director of the Howard Thurman Center, which organized the King commemoration.
After Hume's address, the BU Irish step-dancing group Step About Boston will perform a traditional Irish treble reel.  
"When we found out [we'd be dancing after] John Hume spoke, everybody was really excited," says Molly Coe (CAS'08), the dance group's president, who is studying political science and public policy.
While Step About Boston is relatively new to campus, having just formed in September, another group performing on Monday, the Inner Strength Gospel Choir, has been part of the University for more than three decades. The choir regularly sings at Marsh Chapel, in Boston-area churches, and on tours to other cities. It will perform an a cappella medley of hymns before the final student reading, A Re-examination of America's Place in the World, portions of a 1967 address by King.
"I think it is really important that the students are part of the celebration to show their respect and admiration for Martin Luther King, for the strides that he made not just for African Americans but for us as a world community," says choir president Jason Jordan-Griffin (COM'06), an advertising major.
Indeed, the ideal of a world community will also resonate in the final student performance, Ghanaian drumming and dancing by members of the Dance Theatre Group, choreographed by Amber Held (UNI'06). Held studied in Ghana last spring as part of her self-designed major in visual anthropology.
"That's the whole concept of African dance, which is everyone can dance," explains Held, whose routine will include 12 dancers and 3 drummers. "These are dances that have a heritage, that have been danced for hundreds of years. The songs and the dances are known by everyone [and are] the core of what brings people together."