Close your eyes
BU prof reminds us that today is National Napping Day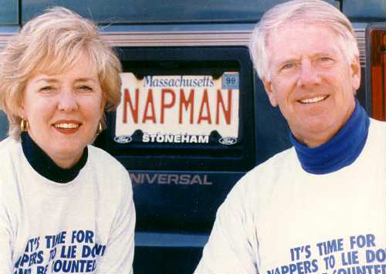 Catch William Anthony napping on the couch in his office and there won't be hell to pay. Napping, the Sargent College professor of rehabilitation counseling knows, is nothing to be ashamed of. In fact, Anthony, who may be the world's foremost scientific proponent of napping, will tell you that a quick midday snooze is an excellent way to improve performance and productivity — once you wake up. Six years ago, to overcome the American cultural prejudice against naps and to raise awareness of the benefits of napping, Anthony established National Napping Day, which is celebrated the day after daylight savings time kicks in.
"We figured this would be a good day to celebrate the importance of napping because everyone is one hour more sleep-deprived than usual," says Anthony, who is also the director of the Center for Psychiatric Rehabilitation. "The fact is that the majority of Americans are sleep-deprived even without daylight saving time."
Since National Napping Day was instituted by Anthony with a BU-issued press release in 1999, he and his wife, Camille, have appeared on national television and radio to promote the event. Because of their efforts, organizations and individuals across the country have begun observing the day with workday nap breaks. Anthony believes that this year's stands to be the biggest yet, because for the first time National Napping Day has a corporate sponsor. The hotel chain Four Points by Sheraton Hotels is offering a NapPORTUNITY package for the month of April, providing guests with "napsacks" filled with sleeping essentials.
Nap day, says Anthony, who has written two books on the subject, The Art of Napping and The Art of Napping at Work, is not exactly a hard sell, because most Americans are almost always "nap-ready." He says that research shows that 50 percent of Americans are sleep-deprived, and without that needed sleep, health, mood, productivity, and performance suffer. Fortunately, he says, the solution is inexpensive, easy, and completely natural: taking a nap.
"We're not talking about napping during work, but napping at the workplace during your break," says Anthony. "Napping should be a legitimate break activity, like taking lunch, hanging out at the water cooler, or going for a walk."
He argues that there is much research proving that a nap during the day can increase productivity and that his napping initiative is intended to change the common perception that people who nap are lazy.
"Napping is still perceived as a slothful act," Anthony says. "I want to get the word out that napping is good for you."
In addition to founding National Napping Day, Anthony is president of the Napping Company, a Web-based outlet that offers workshops on the physical benefits of napping and sells products such as napping T-shirts and do-not-disturb door signs reading "Working Nap in Progress." His next project, he says, is another book, tentatively called The Art of Napping for Women Only.
Anyone who doubts Anthony's dedication to napping need only take a look at his license plate — NAPMAN.
 
"It was a gift from my wife," he says. "It's part of the definition of who I am."