Business spin-off garners award
Carlo De Luca, ENG biomed prof and director of the NeuroMuscular Research Center, founded an award-winning company.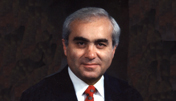 Carlo De Luca, a College of Engineering professor of biomedical engineering and director of the NeuroMuscular Research Center at Boston University, will accept the U.S. Small Business Administration's 2006 national Tibbetts Award on September 26 in Washington, D.C., on behalf of Delsys Inc., a company he founded in 1993.
Delsys, which is a spin-off company from the NeuroMuscular Research Center, is a leading provider of electromyography equipment, physiological sensors, and data analysis programs for educational, research, and medical markets. The company serves clients in 43 countries worldwide and attributes its rapid growth to funding from the Small Business Administration's Small Business Innovation Research program (SBIR).
"We are honored that the SBIR office has recognized Delsys with this prestigious award," says De Luca.
The award is bestowed annually to U.S.-based companies that exemplify excellence in the growth of research-intensive technology. "Delsys embodies the essence of the SBIR program and is a success story that makes every Massachusetts medical equipment maker proud," according to Bob Crowley, president of Massachusetts Technology Development Corporation, who nominated Delsys for the award.