A worthwhile spring break
Alicia Walker (SAR'06) will spend spring break working with needy children in Romania.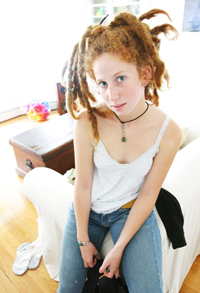 Sargent College graduate student Alicia Walker will not spend spring break relaxing after a week of midterms; instead, she will travel to Romania, where she and three other graduate occupational therapy students have volunteered to help underprivileged children.
Walker (SAR'06) and the other students will first travel to Bucharest to help Sharon Cermak, a SAR professor of occupational therapy, screen children at a local hospital. Her group will then spend nine days volunteering at the Bucegi Orphanage in Buzau, training staff how to better interact with the children and to help them build language skills and speed cognitive development.
"For me," says Walker, "it's really exciting because I know I want to work with children. It's amazing to go help in another country, where occupational therapy really isn't provided at all for children."