Sara Deritter awarded for her work coordinating the Community Service Center
Sara Deritter of the Community Service Center recognized as an Outstanding New Professional.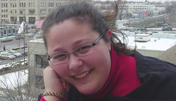 Sara Deritter, coordinator of Programs and Administration for BU's Community Service Center, received recognition recently for her achievements as a new professional. Deritter won the Richard S. Stevens Outstanding New Professional Award from the National Association of Student Personnel Administrators (NASPA), a professional organization for "student affairs educators and administrators."
Deritter says her main job at the Community Service Center is to "[make] sure students at Boston University have the opportunity to volunteer and have a variety of service options open to them." As the only professional staff member in her department, Deritter oversees the 12 community service programs the Center offers. She received the award as a representative of both Massachusetts and "Region 1," an area that encompasses all of New England and parts of Canada.