Healing the Gulf Coast
SED's Jennifer Puccetti pitches in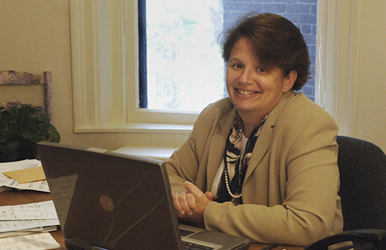 Jennifer Puccetti, director of educational initiatives at the School of Education, recently returned from a 30-day stint of volunteer work along the Gulf Coast. As a member of the Crisis Corps, an arm of the Peace Corps that sends trained volunteers to assist in emergencies, she worked 14-hour days in disaster recovery centers throughout Mississippi, stayed in tent cities and community centers, and helped victims of Hurricane Katrina find resources to rebuild their lives.
How did you prepare to work with the Crisis Corps?
The Peace Corps had us meet in Orlando, where one of the Federal Emergency Management Agency stabilization centers is, for two days of training. Then we were deployed to Jackson, where we were then sent to our first site, Pass Christian. Our second assignment was in Hattiesburg, and in both we worked in disaster recovery centers, which are set up to assist evacuees with figuring out what is available to them from the federal government, as well as what is available to them from other agencies.
We were trained in what they call individual assistance — which is specifically what we did in the disaster recovery centers — and in what to expect once we hit the ground and how to deal with some of the things that we would come across. Half a day was spent talking about safety and what to look out for, and also health-related issues that might occur.
What happened your first day on the job?
We were there working in the parking lot of the Pass Christian High School, and we had set up a disaster recovery center, which was just under a tent, pretty much. We did a variety of tasks, from unloading trucks with water and ice to actually working with applicants and figuring out what their needs were. We opened at 7 a.m. and finished up between 7 and 8.
Were things along the Gulf Coast as bad as you expected?
Pass Christian was worse than I expected, because houses were completely leveled. It's one thing to see the pictures, it's another to actually see it.
I think the most difficult part was the folks who came in and basically had lost everything, and trying to find the right services for them quickly. Hattiesburg isn't far from New Orleans; it's about an hour and a half, so we were helping them figure out if they could go back, what was going to be there, or what they needed to do to reestablish themselves elsewhere.
Things took time. That was the most frustrating piece — you couldn't do things as quickly as you may have wanted to.
Were you able to see any results while working there?
There was one mother and daughter who were living in their van, and they had pretty much exhausted all of their resources and they had come to the center. With the help of the manager of our disaster recovery center, we helped FEMA get them into a trailer. I think that was one of the biggest successes we had in the short amount of time we were there.
What kind of help and supplies are needed now?
I think what could really help at this point is to move on from food and water and start donating either cash or things so people can set up their homes again: linens, blankets, towels, furniture, mattresses. One of the things that people kept mentioning time and time again when they came in was that they had lost their freezers. Many of the folks in Mississippi put up all their vegetables from the summer and all their meats, and that's how they get through the winter. Losing their electricity, they lost all of the food they put up. The focus should now be on what people need to put their homes back together again.
People can always donate to the American Red Cross or to the Salvation Army, and there is one church in particular, St. Thomas Catholic Community in Hattiesburg. They have set up an unbelievable distribution center for all of the Gulf Coast, and they're really getting things out. That would be a great place to donate cleaning supplies, nonperishable food items, baby food, and diapers. The address is St. Thomas Catholic Community, Nancy Farris, Coordinator of Relief Efforts, 3117 4th Street, Hattiesburg, MS 39401.