Ha Jin wins second PEN/Faulkner for War Trash
'This book is a step towards the United States'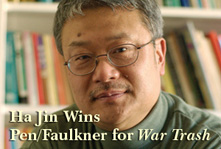 This story was published in the BU Bridge April 8, 2005.
War Trash, the most recent novel by Ha Jin, follows a path familiar to its creator — the story of a young Chinese army officer captured during the Korean War draws partly on Jin's experience in the People's Liberation Army in the 1970s and the time he spent stationed in a North Korean village. However, the narrator's geographical journeys also mark a new experience for the expatriate author: it is Jin's first book set outside of China, and the start of what he believes will be a complete literary farewell to his homeland.
"This book is a transition," says the CAS creative writing professor. "A step towards the United States."
Jin (GRS'94) is already counted among the best American writers — in March, War Trash was awarded a PEN/Faulkner Award, a prestigious peer-juried prize for fiction. Jin previously won the award in 2000 for his novel Waiting; only two other novelists, Philip Roth and John Edgar Wideman, have been given the PEN/Faulkner twice in its 25-year history.
The feat is particularly remarkable considering that Xuefei Jin — the author's real name — began writing in English just 15 years ago, when he arrived at BU as a graduate student. But while his colleagues and peers praise his storytelling and structure, Jin says he has been simply "lucky" to receive such recognition. His ongoing explorations of his own immigrant experience are the important part of his writing and his teaching.
"As I write I'm in a kind of limbo, in a gap between two languages and two cultures," he says. "Every book is a kind of departure."
When discussing writing, Jin speaks often of the logic needed to produce fiction, and logic itself played a significant role in the creation of War Trash — the novel was intended to be a short piece that would fulfill a publishing contract. However, once Jin began writing about Chinese prisoners of war and the Korean War–era clash between Chinese Nationalists and Communists, he couldn't stop.
The topic was compelling, he explains, because of the differences he observed in Chinese and American attitudes towards POWs. In America POWs are welcomed home as heroes; in China, he says, they are considered shameful. When Jin himself was in the army and stationed on the border of the former Soviet Union, he says, he was "afraid of captivity much more than death. Once you became a POW, you were in disgrace."
The fear, mingled with fascination at the cultural differences, persisted as he worked on the first draft of War Trash, and when it was finished Jin realized that the novel would not be a simple project. The perspective of a Chinese POW did not exist in literature, he says: "There are a lot of narratives, [but] they're often a story told by a general, and everybody is a hero." Real first-person accounts were written, he says, but they were often altered by government authorities to reflect an acceptable image of Chinese culture. As a result, Jin felt War Trash needed to be as convincing as possible. "If the story was well told," he says, "it could give a voice, create historical awareness among the readers."
For historical accuracy, Jin searched through books, records, and oral histories. Photographs were particularly helpful, as they could provide details about how much food each man carried and what kind of materials were used for clothes, bags, and blankets. He also relied on the time he spent in a Korean village while in the army, which helped him describe both Korean customs and the country's landscape with "a certainness that could not be obtained by research alone."
Finding a way to give a voice to a largely forgotten group of soldiers was more difficult; Jin had to create a protagonist who would be able to describe more than just the walls surrounding him as a POW. To accomplish this, he made the narrator, Yuan, a college-educated junior officer who had studied English. As a result, the character is able to interact with a variety of people, including the American G.I.s who captured him. The result is "a story so complete in its breadth and depth that it stretches from the half-forgotten Korean War of the last century to the contemporary America of The Simpsons," said PEN/Faulkner judge and novelist David Anthony Durham. The novel was also a finalist for this year's Pulitzer Prize for fiction.
"I felt at once, even before I had finished it, that War Trash would become part of the permanent literature of war," says Leslie Epstein, a CAS English professor, director of the Creative Writing Program, and Jin's first teacher at BU. "What it shows ultimately is how resilient, as well as cruel, men are; yet it simultaneously demonstrates how they cannot entirely relinquish what is best in them, which is most often the recognition of what binds them to other men. This book is going to live."
Jin's previous novels, 1999's Waiting, which also won the National Book Award, and 2002's The Crazed, both focus on major events in recent Chinese history — the Cultural Revolution of the 1960s and the Tiananmen Square riots of 1989, respectively — but as his own journey through America progresses, Jin feels his capacity to write about China diminishes. "My heart was not there," he says. "I don't write that kind of book anymore."
War Trash is an important step in that transition, begun 15 years ago when he made the difficult decision to write in English. Now the cycle is nearing completion. Jin's next novel will again follow the author's path and leave Asia for the United States.
"I do want to be an American writer," he says. "And that means I have to write about America."
Ha Jin photo by Kalman Zabarsky.