Field Hockey, Women's Soccer Post Two-Win Weekends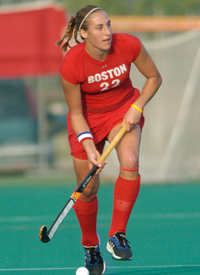 The Boston University field hockey and women's soccer teams had great success over the weekend, as the squads won two contests apiece. The BU stickwomen earned a 3-2 home victory over Hofstra before posting a 3-0 shutout on the road against Quinnipiac. At the TCU Invitational, the women's soccer team recorded two impressive shutouts, including a 1-0 decision over the host Horned Frogs and a 2-0 blanking against Baylor.
Sophomore Sarah Shute recorded a goal and an assist in both of the Terriers' field hockey triumphs and she currently leads the team in both goals (5) and points (12). Juniors Amy Seaman and Ashley Parker each scored in the win over Hofstra, while senior tri-captain Colleen McClay opened the scoring against Quinnipiac with her first goal of the season. BU's final tally against the Bobcats came from the stick of freshman Holly Wiles, giving her the first goal of her young career. Junior Erin Prediger earned both wins in the BU cage to help the team improve to 3-2 on the year.
The women's soccer team got a goal from senior Meghann Cook in the 29th minute against Texas Christian and sophomore goalkeeper Christina Reuter made two saves to earn the 1-0 shutout on Friday evening. The Terriers made it two-for-two against teams from Texas on Sunday when Cook scored a goal and added an assist in the team's 2-0 win over Baylor. After a scoreless first half, Cook took a corner kick just 1:17 into the second half and found freshman Jennifer Herman, who knocked the ball in for her first career goal. Cook added her second goal of the weekend in the 62nd minute to give the Terriers a comfortable two-goal cushion. Junior Stephanie Dreyer posted the shutout in goal, stopping four of the Bears' shots to help BU up its season mark to 4-3.
The field hockey team will return to action on Friday, Sept. 16, when it visits cross-town rival Northeastern for contest that will begin at 2:30 p.m. Also on Friday, the women's soccer team will play host to Fairfield for a 7 p.m. contest.