European ambassadors past and present hold public forum
State of the transatlantic relationship to be discussed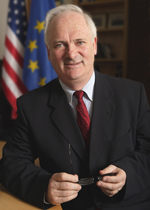 The United States and the European Union at present are wrestling over an array of hot-button issues, among them trade, security, war, and public health. A current and a former ambassador take the stage on Wednesday, October 26, to discuss the state of transatlantic relations in a forum at BU that is free and open to the public.
The EU's ambassador to the United States, John Bruton, prime minister of Ireland from 1994 to 1997, will join Rockwell Schnabel, a former U.S. ambassador to the EU, to compare notes at the forum, moderated by former New York Times foreign affairs columnist Anthony Lewis. The event begins at 6:30 p.m. in the School of Management auditorium, 685 Commonwealth Ave., and will be followed by a reception.
As prime minister of Ireland, Bruton was deeply involved in the Northern Irish peace process that led to the 1998 Good Friday Agreement. He was prime minister during Ireland's EU presidency in 1996, and he helped finalize the EU's Stability and Growth Pact, which governs management of the single European currency. Before being appointed EU ambassador to the United States in November 2004, he served on the caucus that drafted the European Constitution.
Schnabel was appointed U.S. representative to the EU in 2001 and served until July 2005. A longtime businessman, he was U.S. ambassador to Finland under Ronald Reagan and deputy, then acting, secretary of commerce during the presidency of the first George Bush. He is coauthor of The Next Superpower? The Rise of Europe and Its Challenge to the United States.
Wednesday's forum is part of a series of events organized at Boston University and Harvard University titled Challenges of the 21st Century: European and American Perspectives. It is sponsored by BU's Institute for Human Sciences in cooperation with Harvard's Center for European Studies.
The Institute for Human Sciences was established in November 2001. Its purpose is to promote research and debate among European and American intellectuals and policy makers and to encourage frank and informed discussion of public policy issues of special relevance to both the United States and Europe.
The institute serves as a forum for new nonpartisan debate, research, and education in matters of international (especially transatlantic) relations, introducing European insights and experiences to American debates on major social and political issues and bringing American perspectives to bear on European discussions.
The IHS is particularly interested in the intersection of international relations and culture and in the role and image of the United States in Europe and of Europe in the United States. It is affiliated with the Vienna-based Institut fur die Wissenschaften vom Menschen, an independent interdisciplinary center for advanced study in the humanities and social sciences.