Creative Writing Program's Faculty Reading tomorrow features distinguished cast
Event includes former Poet Laureates, winners of Nobel and Pulitzer prize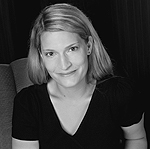 "It's going to be a completely humbling experience sharing the stage with such incredible writers," says poet Maggie Dietz, coordinator of the Favorite Poem Project at Boston University.
Dietz (GRS'97) is referring to the Annual Faculty Reading of the GRS Creative Writing Program on Wednesday, November 30. Participants include Nobel prize–winning playwright Derek Walcott (Hon.'93), a CAS professor; former U.S. Poets Laureate Robert Pinsky, a CAS professor, and Louise Gluck, winner of a Pulitzer prize; Creative Writing Program Director Leslie Epstein; PEN/Hemingway award-winning author Jennifer Haigh; UNI Professor Geoffrey Hill, recipient of the T. S. Eliot Award for Creative Writing and a former codirector of BU's Editorial Institute; and Ha Jin (GRS'94), winner of a National Book Award and two PEN/Faulkner Awards and a CAS professor.
Dietz, who has worked with Pinsky on the Favorite Poem Project — an initiative he created when he was U.S. poet laureate celebrating and promoting poetry in Americans' lives — will be participating in the Faculty Reading for the first time. Although she may be modest about her own literary achievements, she has enjoyed much success of late. On November 19, the New Hampshire State Council on the Arts named her a 2006 Fellow. In addition, her first book of poems, Perennial Fall, will be published in April by the University of Chicago Press.
"At the Faculty Reading, I'm going to read a couple of poems from the book, as well as a few new poems," she says. For examples of Dietz's poetry, click here.
A lecturer in creative writing at BU, Dietz moved to New Hampshire three years ago to become the George Bennett Fellow and writer-in-residence at Phillips Exeter Academy. In 2003 the native of Green Bay, Wis., was awarded a winter fellowship at the Fine Arts Work Center in Provincetown, Mass.
The Faculty Reading, which showcases the growing celebrity of the Creative Writing faculty, is known for its mixture of fiction and poetry. "I like the movement back and forth between the genres," says Dietz, who plans to use the recent $5,000 New Hampshire fellowship prize to take the spring semester off from teaching and start a new book.
The Creative Writing Program's Annual Faculty Reading, which is free and open to the public, will take place at 7:30 p.m. at the SMG Auditorium. For more information, call 617-353-2510 or visit www.bu.edu/writing.