Professional Training
Our center also conducts and supports numerous educational activities for health care professionals and young researchers, including the following:
Professional Training
The BU ADRC sometimes offers clinical research opportunities for medical, graduate, and undergraduate students. Specific internship opportunities will be posted as needs arise. Interested candidates may also contact individual faculty to inquire about emerging opportunities within their labs.
Educational Events

We provide professional education on Alzheimer's disease and related disorders, including lectures and seminars at the BU School of Medicine and an annual continuing medical education course on mild cognitive impairment. More details are available from the Events page.
Student Ambassador Program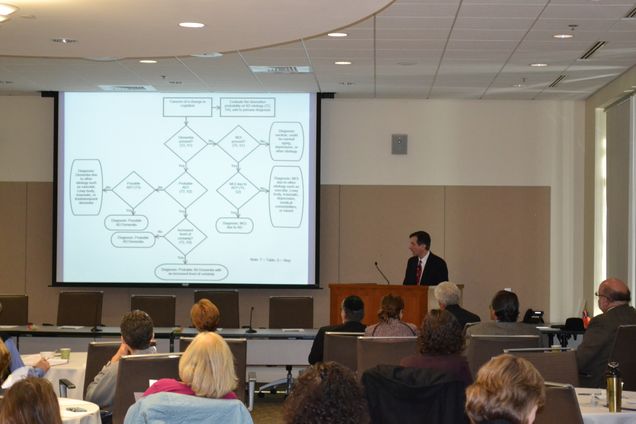 Selected Boston University Students are given the chance to join the ORE Core Program Manager at recruitment events. This gives student the chance to learn specifically about Clinical Trials and Studies at the BU ADRC as well as the opportunity for students to interact with community members. We are not accepting applications for the 2020-2021 Academic School year applications are due 11:59PM, September 30, 2020.
BU ADRC Research Education Component
Our translational interdisciplinary and interprofessional training program provides and enhances junior faculty and research associates with: (1) Integrated knowledge in the basic and clinical fundamentals of AD and other neurodegenerative diseases. (2) Training in essential research and critical professional skills for success in academic medicine, (3) Training in the responsible conduct of research with animal and human subjects, with emphasis on vulnerable populations, (4) Training in the importance of diversity in the scientific research workforce and diversity of the clinical populations studied, (5) A high quality jointly-mentored, interdisciplinary research experience that synthesizes the trainee's knowledge base, research and professional skill set, understanding of responsible conduct of research, and appreciation of diversity that will prepare the trainee for independent investigator status.
Alzheimer's Association Programs
Center investigators work with the state chapter of the Alzheimer's Association to provide education for health care professionals throughout the state who work with patients and families affected by dementia. For example, our faculty are regular presenters at the annual "Map through the Maze" multidisciplinary conference held in May for dementia care professionals who work in assisted living facilities, nursing homes, community agencies, hospitals, and other settings. In addition, Center faculty assist with the Association's statewide Physician and Nurse Grand Rounds program designed to educate primary care providers about dementia care. You can find more information about these types of educational events by visiting the calendar for the Alzheimer's Association Massachusetts/New Hampshire Chapter.
If you're interested in setting up a professional event please contact:
Samrana Bertrand at sbertran@bu.edu