SURF Program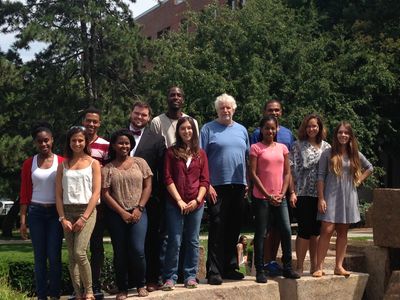 The Summer Undergraduate Research Fellowship (SURF) Program at Boston University is designed to promote access to graduate education for talented undergraduate students, especially those from minority groups traditionally underrepresented in the sciences – African-American, Hispanic, Native American/Native Alaskan, and Pacific Islander/Native Hawaiian/Polynesian – or persons living with disabilities. The SURF Program is supported by funds from the National Science Foundation (NSF-REU; NE-AGEP), the Department of Defense (ASSURE), and Boston University.
The SURF Program is open to non-BU students who are rising juniors or rising seniors, and wish to conduct research in the sciences, technology, or engineering. The program consists of ten weeks of full-time research in a Boston University lab, mentored by a BU faculty member. For summer 2015, SURF research projects are in areas related to Biology and the interaction of genes with environmental factors. On-campus housing, a stipend, weekly enrichment activities, social events, and an October weekend trip to present findings at the Boston University Undergraduate Research Symposium are also included. To apply for the SURF program, click here.
The application deadline for the summer 2015 SURF program will be February 16, 2015 (the application will be available beginning December 1). For summer 2015 the SURF program dates will be from early June to early-mid August. Please read the application instructions carefully before applying to the SURF program: you will need to fill out an application, provide a transcript, and ask two professors to submit letters of recommendation. Feel free to contact the UROP office if you would like more information (urop@bu.edu; 617-353-2020).
Other Summer Research Programs at Boston University
During the summer of 2015, the SURF program is partnering with three other undergraduate research programs: the NSF-funded CELEST program, the STaRS program sponsored by BU Medical Sciences, and an NSF-funded research program in Chemistry. Members of groups underrepresented in science are encouraged to apply for all of these programs as well. Students may apply to SURF and the other three programs, as all application evaluations are conducted separately.
1. The Center of Excellence for Learning in Education, Science, and Technology (CELEST) hosts a summer program for undergraduate students that involves research internships with a core CELEST faculty member who utilizes experimental and/or computational approaches to the neuroscience of learning. For more information and to apply to the CELEST summer research program, click here.
2. The Division of Graduate Medical Sciences at the Boston University School of Medicine sponsors a 10-week summer research program to rising sophomores and juniors considering careers in biomedical research. The Summer Training as Research Scholars Program (STaRS) includes research in a basic science lab, weekly seminars, and enrichment activities. For more information and to apply to the Graduate Medical Sciences research program, click here.
3. The Fundamental Biological Chemistry REU program gives undergraduates the opportunity to conduct research in basic chemical science projects that address fundamental questions in biology. The program is offered by the Department of Chemistry at Boston University and is one of the sites supported by the National Science Foundation. Boston University has an outstanding, internationally known research faculty and exceptional, modern facilities. It is located in the heart of Boston, one of the world's leading research areas. For more information and to apply, click here.