BU in LA
Learning and Living The Biz
Part one of a five part series on Boston University's  Los Angeles Internship Program.
For the last three years, BU has offered The Actor in Hollywood and The Writer in Hollywood programs to students of the College of Fine Arts and the College of Communication who are drawn to television and film. Those accepted into the intensive, single semester programs, which are run through BU's division of international programs, live in Los Angeles and combine study of their craft with internships in the offices of agents, casting directors, and public relations firms.
Students work on collaborative projects and are taught and coached by BU alums who are Hollywood success stories, including Jason Alexander (CFA'81), who played George in "Seinfeld" and has starred in many other stage, film, and television productions, Krista Vernoff (CFA'93), writer and producer of Grey's Anatomy, and Nina Tassler (CFA'79), president of CBS entertainment. Students are also given opportunities to audition for TV and film projects and to showcase their work to agents, managers, producers and development executives. Applications for the spring programs are due November 15 but will be accepted until the programs are full. 
On a CBS set, lessons in "what matters"
Monday, September 25
At 12:45, it's finally lunchtime at April Webster Associates, the company currently supplying actors to the CBS show Criminal Minds. After a morning of shuffling through headshots, Rebecca Sigl (CFA'06) and her office-mate are ready for a break in the form of grilled salmon and Thai noodle salad. The girls gather their trays and sit down at the cafeteria-style tables in the makeshift lunchroom as a man in black comes striding through.
 
"Shooting!" he yells. The chatter stops. A minute later, half a dozen uniformed police officers walk through the door carrying trays of food, the show's stars get in the lunch line, and the conversation and laughter resume.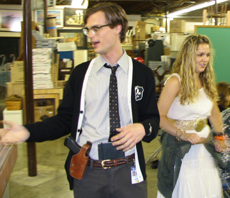 Sigl says actors like Gubler, left, are
"so nice and so kind."
Sigl is, in fact, an intern in the casting office, but the casting office of Criminal Minds, along with the writer's room and all the other departments, is located on the actual set of the show. In the morning, Sigl can grab coffee or a snack from the Craft Services table, which is located behind the backdrop of a city skyline. In the afternoon, she can sit in on a script reading with the writers and directors. And on the days the show is shooting, she can spend her lunch hour hanging out with actors Matthew Gray Gubler  (Intern #1 from The Life Aquatic) and Shemar Moore (Malcolm Winters from the Young and the Restless), who today gives her a hug and compliments her outfit.
 "Everyone on this show is so nice," she says, "and so kind. And so not LA."
Sigl, a theater major with blond Botticellian curls, graduated from BU last May, but decided to take an extra semester at the BU in LA program. It seemed like a good way to get to Hollywood, she explains, without having to move out here and start on her own. "If you just come out here without any connections or knowing how the industry works, it could take you 5 or 10 years just to figure it out," she says. "This program kind of helps to consolidate that time into one semester, to help you start to build bridges into this crazy world."
It takes more than one semester to build a Hollywood career, of course. But the students in BU in LA's The Actor in Hollywood program do come out of their four-month internship with a particular brand of knowledge that other 21- and 22-year-olds lack: the difference between "the business" of being creative and "The Biz" of the entertainment industry, according to Robert Shampain, the director of The Actor in Hollywood program. By working in the industry's most reputable casting offices, talent agencies, and studios, they know what to look for when it's time to launch their own career.
"I'm hearing all the names," says Travor Thompson (CFA'06), who's working for superagent Todd Justice at Venture IAB. "I'm seeing what's a good headshot and what's a bad headshot, what matters and what doesn't matter."
Sigl learned what matters when she moved into the tiny office she shares with Karina Bennett, another part-time intern and aspiring actress. One side of the room is stacked, floor to ceiling, with bins of headshots and resumes. Taped to the outside of each bin is a two-word description: "Black Men," "Latin Men," "Caucasian Women," and so on.
"You can't let it dehumanize you or take it personally," Sigl says. "This is film and television. This is what they want to do — put you in a little box."
This particular Monday has been slow: a read-through, which Sigl and Bennett normally attend with the cast, the writers, and the directors, was canceled, so they devoted the morning to prepping the week's breakdowns and sides (the role descriptions that go out to talent agencies and the scripts that auditioning actors will be asked to read). This week's plum role is of a woman who resists abduction and has to be interviewed by the Criminal Minds team — definitely a part with lines. A cyclist may or may not be a speaking part. Then there's a dead woman, "who I'm guessing won't have lines," Bennett says. "I don't think the dead woman is going to be anything but some poor extra with chocolate syrup and red food dye in her hair."
In between tasks Bennett tells Sigl about the commercial auditions she's done recently — a candy ad in which she was asked to stuff her mouth with Gummi Bears and a Disney spot involving a happy family at Disneyland. Sigl plans to start auditioning when the program is over in December. She doesn't have an agent or a manager yet, but thinks she'll be pretty well prepared, thanks to her work at April Webster. Knowing how capricious the casting process can be, she says, makes her less nervous about auditioning.
"What I'm really learning is that there's so much out of my control," she says. "It's not just about how good your audition is — do you look like someone else in the cast? Is your voice too high, too low?"
"I've learned that all you can do is your best work," she continues. "That's been a big payoff of being here."
Sigl started acting because her mother taught children's theater in Sacramento, where she grew up. She had always planned to go on to New York after finishing her degree at the College of Fine Arts. But then she was cast as the female colead in Roller Palace, the sitcom pilot that a group of BU students developed in collaboration with mtvU in 2005, and she was hooked. "I loved the whole atmosphere, the whole experience of being on film," she says.
Now, sitting in a seat recently vacated by Thomas Gibson (of Dharma and Greg), being served Turkish coffee in tiny china cups by Craft Services, and watching Gubler perform terrible magic tricks, she is loving the experience of being in Hollywood as well. Her goal is to do film, but in the past few weeks, she's learned that television is a good stepping-stone. She doesn't want to give up theater, but knows that it's a tough way to make a decent living. "Unless you're Nathan Lane or something," she says.
One other thing she's learned at April Webster: it's not an easy path.
"I sometimes wish that something else would make me happy," she says. "Maybe I'll get there. I've got time to change my mind. To change my mind, like, 10 times."