PRoBono – An Overnight Marathon of PR and Advertising Work
In the fall of 2014, PRLab once again teamed up with BU's student-run ad agency, AdLab, to host the third PRoBono event. The overnight PR and advertising marathon took place from 6 p.m. on Friday, November 21, and ran until 12 p.m. on Saturday, November 22. Over the course of 18 hours, students worked together to provide PR and advertising work to nonprofit clients free of charge.
For the fall 2014 PRoBono event, we worked with five nonprofits including, Urban PRIDE, Gifts to Give, Wish of a Lifetime, Technology for Autism Now and Holly Hill Farm.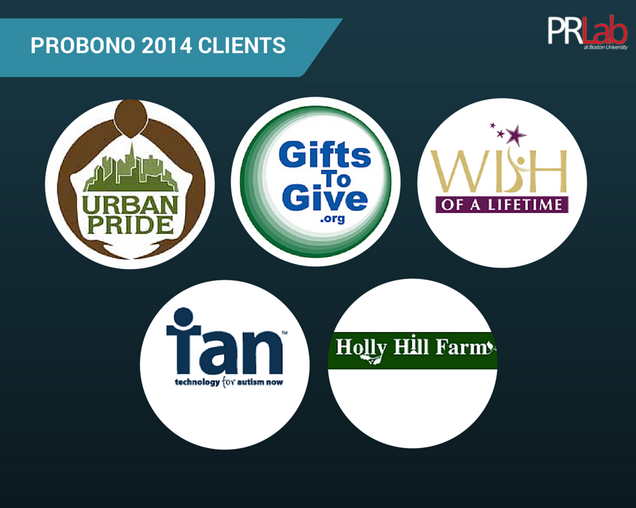 At the end of the event, students' work was critiqued by a panel of judges which included professionals in the PR and advertising industries. Throughout the night, we offered food and fun activities, such as raffle prizes, contests and surprise visits. Check out our Twitter stream for a play by play of the event.
Want to learn more about PRoBono? Check out our coverage from past events:
Photos/Video:
PRoBono 2013 Event Recap (Click title)
On December 11 and 12, 2013, Boston University PRLab and AdLab hosted PRoBono, Boston University's first 24-hour public relations and advertising philanthropy event. During the event, student volunteers provided free strategic planning and creative advertising services to five nonprofit clients: Audrey's Rescue Angels, Christina Clarke Genco Foundation, Inc., CYCLE Kids, Fenway High School and Mass Mentoring Partnership.
PRoBono showcases not only the talent of the College of Communication's PR and advertising students, but their dedication to strengthening the greater-Boston community.
PRoBono opened with talks from Edward Boches, Boston University professor of the practice of advertising, and Jens Bang, chairman of Cone Communications. After 24 straight hours of working, the students unveiled their work to the clients as well as a panel of experts: Stephen Quigley, Boston University associate professor of public relations, Dr. Dustin Supa, Boston University assistant professor of public relations, Katy Dobbs, director of internal communications and corporate responsibility at Staples, and Jens Bang.
Check out our photos from the event – both the work and play. For the twitter stream, search #BUPRoBono. Check out the event coverage from the COMmunicator and BostInno.
Special thanks to the businesses who generously donated products & services to the event: