Parent Magazine
College of General Studies Hits 60
Once the best-kept secret in liberal arts education, the College of General Studies celebrates its 60th anniversary with a growing national reputation.
By Andrew Thurston
Photos by BU Photography
It would make an intriguing, if slightly ominous, riddle: name the college that admits the second-largest freshman class of any at BU, but from which no one graduates.
If you're new to BU, the College of General Studies (CGS) can seem like a quirk.
Now in its 60th year, CGS is home to the University's two-year general education curriculum for freshmen and sophomores: students do not graduate from it, but enroll with guaranteed continuation to almost any BU undergraduate program. With classes in social sciences, humanities, and rhetoric, it's as though a small liberal arts college has been tucked into a major research university. According to Dean Linda Wells, CGS is "the best interdisciplinary, general education program in the country"— if you ask some students, it's also a great way of stalling that final decision on a major.
Evolving History
Back in 1952 when CGS was established with the name Junior College, its mission was simple: educate World War II and Korean War veterans taking advantage of the GI Bill's free tuition. It was founded on principles that would appeal to those fresh from the frontlines: a team-teaching structure, small classes, close relationships with professors, and a tough interdisciplinary liberal arts education.
Six decades later, those values remain—even if much else from the fifties doesn't. The original college building in Boston's Copley Square was demolished for an expansion of the Boston Public Library in the sixties; the name "Junior College" was consigned to history in 1960. The faculty has been transformed, too. The staff listed in student handbooks from the fifties—complete with home addresses and marital status—were often instructors with a single degree; today's faculty all hold PhDs.
And the modern CGS student? As the proud parents reading this well know, they're already academic achievers. While the College made its early reputation cultivating students with unproven academic potential, it now attracts those with paper grades among the best in the nation: the class that joined CGS in fall 2012 entered with an average GPA of 3.4, putting them in the 89th percentile. In their time at CGS, they'll follow a rigorous core curriculum, tackle electives at other BU schools and colleges, and have the opportunity to study abroad.
Mavericks and Adventurers
But, grade point averages aside, Dean Wells has noticed a CGS type in her 30 years at BU: "I think students who come to this college still tend to be kind of mavericks. They like being unique, and they like meeting other kids who are. They're definitely drawn, always have been, to the international and cosmopolitan flavor of BU; that means they're adventuresome."
If you talk to alums from any era (you can check out a list of notable CGS alums on the College's website), those similarities are reflected in their memories.
"I think they will say they made their best friends here—even way back when," says Wells. "The team structure gives them a sense of belonging. Most alums remember CGS in a way that they don't necessarily remember their junior and senior years."
Central to that is the Capstone Project. A 50-page group paper culminating in an oral defense, Capstone is often considered the defining CGS experience. Teams of sophomores are given a contemporary real-world problem—Should the U.S. join the International Criminal Court? In a future of genetic sequencing, who owns our genes?—and given four weeks to come up with a solution, either in the form of a policy recommendation or an arbitrator's ruling.
Mark DiCristofaro (CGS'06, COM'08), now a film producer in California, completed his Capstone Project on eminent domain. "Will I ever need that knowledge? Maybe. But what I do use on a daily basis is the ability to think critically, problem solve, and communicate as a team member. Those are distinctions, in my experience, that have enabled me and other CGS alumni to take on projects of all types with the confidence and the desire to make a difference in our fields of choice."
What Does the Future Hold?
What's next for CGS? Will it celebrate a 75-year anniversary? And, if it does, where will it be and what will it be called? Given recent renovations to the lobby, classrooms, and study centers at its present location, 871 Commonwealth Avenue, it will probably stay put. But the name?
"We have wanted to change the name," reveals Wells. "We just can't set upon what." The College of Integrated Liberal Studies? Too vague, perhaps. The College of Interdisciplinary Studies? Pronounced with a hard c, not the best acronym. But Wells does think a name change "might be helpful" in the College's quest to "have more national visibility."
The first step in that push was the 2011 opening of the Center for Interdisciplinary Teaching & Learning. Wells likens it to a research center at a hospital—a place to study and promote improved approaches to its primary mission. "The center will allow us to do a better job of teaching first- and second-year students," she says, "and a better job of communicating nationally and internationally the value of a liberal arts general education."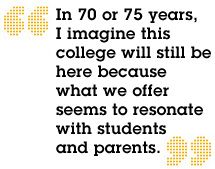 It's a value Wells believes is universal. In fact, forget the 75th anniversary; she's confident CGS will celebrate its 130th birthday party in fine health.
"In 70 or 75 years, I imagine this college will still be here because what we offer seems to resonate with students and parents," she says. "Classically educated students who know how to analyze, research, problem solve, speak and write well, and work both independently and on a team—sounds like a winning formula for a great job or career."
This article is based on stories originally published in the summer 2012 edition of the College of General Studies magazine, Collegian. Patrick L. Kennedy contributed to this article.
60 Years of the CGS Evolution