Countdown to Commencement
Sunday, May 17-Nickerson Field, 1pm
Find Yourself in a Sea of Faces

May 27, 2014

Were you among the 20,000 or so people at BU's 141st Commencement May 18? Thanks to GigaPan—a technology that stitches thousands of photos into a single high-res image—you can find yourself and your friends in the crowd.

Heady Thoughts about Commencement

May 23, 2014

With an esteemed purpose and an odd name, the square-topped, tasseled mortarboard—named for its resemblance to the bricklayer's tool called a hawk—is shorthand for graduations, which have a way of ending with the appendages tossed gleefully (and perilously) in the air. At BU's 141st Commencement, many graduates used their caps as canvases, documenting their […]

"Mr. Fancy" Reflects on Four Years at BU

May 22, 2014

Class of 2014 grad Thomas Unger talks about his four-year transition from fun-loving fancy freshman to confident and responsible (but still fun-loving) senior—and as a RA, how he will miss the enthusiastic and passionate denizens of Myles.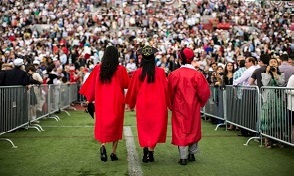 Archives
A great way to look back and relive your ceremony is to
explore the archives
, or order a video on our
Memorabilia
page.
School & College Convocations
The moment your diploma hits your open palm is unforgettable. Make sure you're at the big event.
Find your School or College Convocation.
Celebrate with the Family
Start thinking about how you want to celebrate. Check the schedule of events now and be ready to buy tickets starting January 20, 2015!
CONNECT WITH US
Get the latest on 2015's festivities when you visit us on Facebook and Twitter.