Back to School Jams Prep Boston Kids for a Healthy School Year
For Boston area children, the last weeks of August bustle with back to school activities, one of which includes Back to School Jam events that promote good oral health. Boston University Henry M. Goldman School of Dental Medicine (GSDM) and the Massachusetts Dental Society/Boston Collaborative Group participated in three of the Boston Back to School Jams, providing dental screenings and health information for families. The volunteers also handed out toothbrushes and other oral health care products.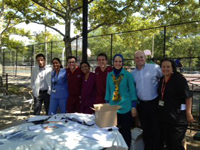 The Jams are fun—full of music, food, and games—and serve to strengthen the connection between health care providers and the community. Each year, Back to School Jam volunteers see hundreds of children. All of the three Jams this year were well attended.
State Representative Jeffrey Sánchez spearheads the Back to School Jams in the areas he represents. Oral Health Promotion Director Kathy Lituri said, "Representative Sanchez recognizes the importance of good oral health and the role it plays in a child's ability to learn, focus, and be ready for school."
On August 12, the collaborating groups held a Back to School Jam at the Bromley-Heath Boston Housing Authority (BHA) development in Jamaica Plain. Two dentists from the community also joined in the activities that day. The second Back to School Jam that GSDM participated in was on August 13 at the High Street Veterans housing development in Brookline. On August 15, GSDM was at the Mission Main BHA development in Boston for their third Back to School Jam.
The faculty sponsors of the Back to School Jams were Kathy Lituri and Clinical Assistant Professor of General Dentistry Frank Schiano CAS 01, DMD 06, AEGD 07. Lisa Davis attended as liaison from the Mass Dental Society and the Boston Collaborative Group.
The Boston Collaborative Group is a co-sponsored initiative of the American Dental Association, the Massachusetts Dental Society, and the Metropolitan District Dental Society.
Thank you to the GSDM student volunteers: Roua Al Timimi AS 15, John Costello DMD 16, Ginee Jain AS 14, Pardis Koleini DMD 17, Matt Mara DMD 16, Amrita Patel DMD 15, Priyadarshini Raju AS 14, Sara Salemi DMD 15, Cara Seidel DMD 15, and Wang-Peng Xu AS 15.