Dean & Mrs. Hutter Welcome New Students into Their Home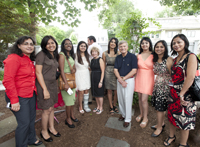 For the fourth year, Dean and Mrs. Jeffrey W. Hutter opened their home to personally welcome the incoming pre-doctoral students and offer an opportunity for them to learn more about each other and meet some of the School's faculty and staff during Orientation Week at Boston University Henry M. Goldman School of Dental Medicine (GSDM).
The DMD 17 and AS 15 students were divided into groups named after people and places important to GSDM and BU: Goldman, Frankl, Hutter, Terrier, Fenway, and South End. Over three evenings—July 30, July 31, and August 1—each of the six groups, in turn, travelled by bus to the Hutter residence in Newton, Massachusetts, playing trivia with faculty and staff during the ride. Once they arrived, the students mingled with guests in the Hutters' sunny backyard.
Among the GSDM individuals with whom the new students became acquainted over the receptions were Director of Development Kimberley Branca; Assistant Dean of Students Joseph Calabrese DMD 91, AEGD 92 and his wife, Michelle; Clinical Assistant Professor of General Dentistry and Director of Diversity & Multicultural Affairs Larry Dunham DMD 83; Associate Dean for Clinical Affairs and Clinical Associate Professor of General Dentistry Dr. John Guarente; Assistant Dean for Development & Alumni Relations Kevin Holland; Director of Alumni Relations & Annual Giving Stacey McNamee; Associate Professor of General Dentistry and Faculty Liaison for the Advanced Standing Program Dr. Janet Peters; Alumni Board President Mitchell V. Sabbagh DMD 87; Clinical Assistant Professor of General Dentistry and Alumni Board Secretary Frank Schiano CAS 01, DMD 06, AEGD 07;  Clinical Professor of General Dentistry and Director of Pre-doctoral Removable Prosthodontics Ronni Schnell DMD 81; and Clinical Assistant Professor and Immediate past President of the GSDM Alumni Association Tina Valades DMD 84 and her husband Ralph.
Some of the incoming students were already well acquainted. The new pre-doctoral classes include at least three married couples and a set of twins.
"Kathy and I look forward to welcoming new pre-doctoral students into our home each year," said Dean Hutter. "The receptions are a symbolic welcome to the students as new members of the Boston University family."
Special thanks go to Assistant Director of Meetings & Events Lindsay McHugh for organizing the receptions.
Photos are available on Facebook (July 30, July 31, and August 1) and Flickr (July 30, July 31, and August 1).