Back on the Field, BU Softball Has Three-Peat in Mind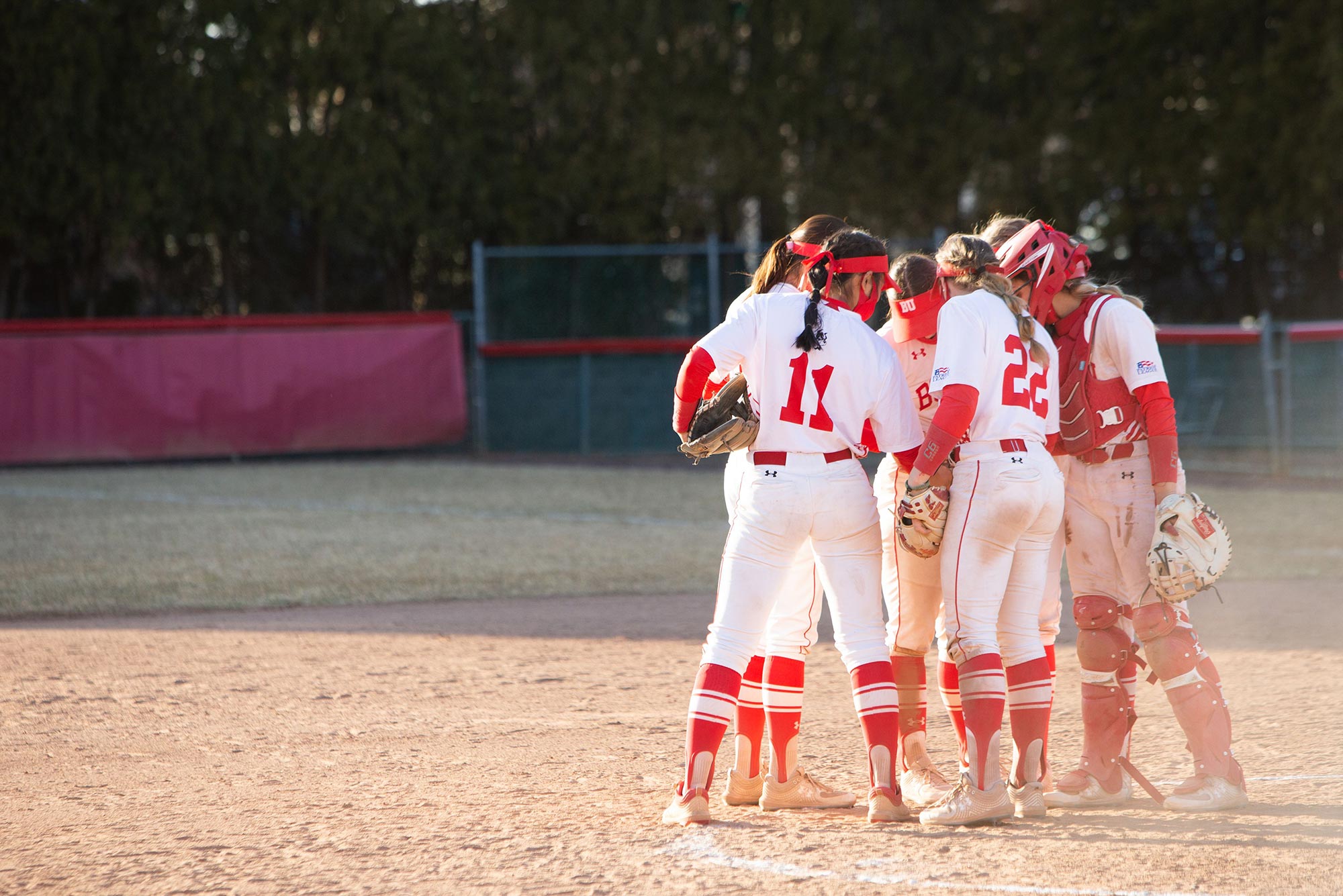 Varsity Sports
Back on the Field, BU Softball Has Three-Peat in Mind
Terriers begin conference play, aiming to defend Patriot League title
After the women's softball Terriers captured consecutive Patriot League titles in 2018 and 2019, COVID-19 halted the 2020 season. But the BU team is picking up right where it left off. The Terriers are 13-1, their best season start since 1993.
The program has become an established Patriot League powerhouse, with head coach Ashley Waters leading the team to four consecutive conference championship appearances since arriving at BU ahead of the 2016 season. The team was in line for another deep run in 2020—starting 8-0 for the first time ever—when the coronavirus pandemic ended the season before league play could begin.
"It was really hard to hang that up knowing what we could have been," Waters says. "I think we took the parts we had learned last year and transitioned that to this year."
"We're at a really good spot right now," says Emily Gant (Sargent'22). "As long as we keep putting pressure on offensively and staying solid on defense and pitching, we're good. We worked really hard in the fall, and we're working really hard right now. We're all just excited to be back out there."
After a longer off-season than usual, the Terriers returned to the field on March 7, taking three of four games at Providence.
"It was a long time coming," Waters says of the season-opening series. "They've had the excitement since getting on the field against Providence, and they haven't let up, which I love."
The loss to Providence in the second game of the season marks BU's single blemish so far. In the weeks since, the Terriers have swept Merrimack, Boston College, and Stony Brook, taking a 10-game win streak into Patriot League action last weekend at Lehigh. BU won both games against the Mountain Hawks, who have reached three straight Patriot League title games.
Waters attributes much of the team's success to Gant and the other veteran players. "They know what it takes, they know the grind, and they know it's a really long year and they have to keep pushing forward. I think that's probably the piece that will separate us.
"These guys know how to win games—they know how to win championships."
Nine current upperclassmen were a part of the Patriot League–winning team in 2019, and four remain from the 2018 championship squad. Among that four-year group is Ali DuBois (ENG'21), a two-time Patriot League Pitcher of the Year and All-Conference First Team member.
Waters credits her roster of pitchers, headlined by the undefeated DuBois, as the center of the team's strength. "We have a really great pitching staff," she says. "They give us a chance to win games, and then you mix that with a pretty potent offense, and that's a recipe."
Both Dubois and Allison Boaz (ENG'23) allow less than a run per game on average, combining to pitch in 83 of BU's 92 innings so far. At the plate, Gant has a team-high 15 hits, while other batting leaders include Aliyah Huerta-Leipner (CAS'22) with 14 runs and Nicole Amodio (Sargent'22) with 13 runs batted in. Among Terriers playing in every game, Jen Horita (Questrom'21) has a BU-best .455 batting average.
And while her players have started strong, Waters says it's how they finish that really matters. "We need to be playing our best softball in May," she says. "We're chipping away every single week, learning new things and figuring out what we need to work on."
Entering a 20-game conference slate to close the regular season, Gant says she and her teammates know they are expected to be a major contender again.
"Coach always tells us that we have a target on our back, and I think the more we're reminded of that, the more we know how hard we have to work to get this championship again."
Waters says that expectation of excellence extends beyond any one season. "I always say the best is yet to come, because I want this to be a revolving door where greatness comes in the door and greatness teaches greatness."
The Terriers will look to continue their 12-game winning streak when Colgate visits the BU Softball Field for doubleheaders this Saturday and Sunday. The games, which are at noon and 2 pm both days, can be streamed on ESPN+ and followed on GoTerriers.com and @BUGameDay on Twitter.