Terriers Build a Global Commencement and BU's Campus, All in Minecraft
Gaming & Graduation
Terriers Build a Global Commencement and BU's Campus, All in Minecraft
"Quaranteen University" will hold a virtual ceremony May 22
After four years of hard study, BU seniors have a pretty simple function at Commencement: robe, march, sit, and enjoy the show. Organizing that show—let alone one for hundreds of campuses around the planet—isn't part of the script. But neither is a pandemic that postpones your long-awaited big day and forces you to learn remotely under a stay-at-home advisory.
Which frankly bored Rudy Raveendran (CAS'20) and fellow Massachusen–senior–computer science major Warren Partridge (CAS'20). So they created Quaranteen University (QU) to stage a virtual commencement in Minecraft, the video game of constructed worlds, borrowing the graduation concept from Japanese high schoolers. Partridge remembers exactly when he messaged Raveendran with the idea: midnight on March 17, "when I definitely should have been working a problem set" instead.
"We're both lifelong gamers and thought that a Minecraft graduation was a fun idea that could catch on," he says. "We tested it with friends before making it public."
The idea exploded on social media, in just over three days garnering 300-plus likes on their BU class Facebook page and more than 2,7,00 likes on Facebook's "Zoom Memes for Self Quaranteens" group. Now, BU is but one part of QU: more than 1,400 students from 439 colleges and universities globally have signed up for the May 22 ceremony.
The duo piggybacked off the BU Gaming Club, which was busy manufacturing its own Minecraft masterpiece: a re-creation of the Charles River Campus.
Tweaking an old proverb—if you can't bring Terriers to campus, bring the campus to Terriers—Gaming Club members reconstructed 20 BU locales, from individual colleges and residences to Marsh Plaza to Agganis Arena—and even the BU Bridge. Such loving detail went into the project that Raveendran was wowed on entering Warren Towers that he could ride the virtual elevator to the very seventh-floor room he'd lived in freshman year.

The Gaming Club "had a server already set up that could support our project simultaneously," he says, "and we figured it would be a good way to grow both of our audiences." The server is devised, he says, so that portals lead users either to the re-creation of the BU campus, a regular Minecraft game world, or to Quaranteen University, the last open only to volunteers helping to construct its commencement.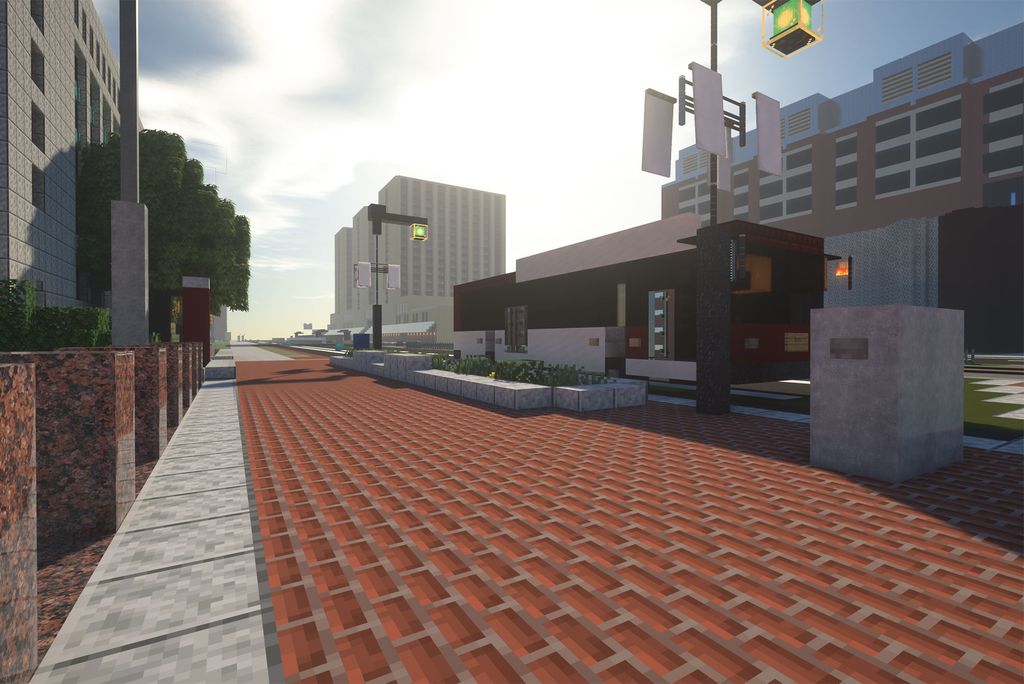 Not all of the re-created campus is as far along as the virtual Warren Towers Raveendran visited, says Gaming Club media chair Jithvan Ariyaratne (CAS'21). "We plan on fleshing out the interiors for all buildings over time, as we lack references and builders can't visit campus buildings right now," he says. "Any interiors that have been done so far are based on floor plans provided on the BU housing website and floor plans on fire escape maps inside BU buildings.

"We allow any player to build the interior of a room they have personal experience with, under the supervision of a builder," he adds.
Unlike QU, the Minecraft BU campus existed prior to the pandemic. Hoping to attract more members to his club, Ariyaratne says he "decided to make a Minecraft server, as it would give the casual gamer a chance to play with others like them." Taking classes at BU last summer, with his view of its buildings and streets less obstructed by crowds of students, he "started to notice the architecture around campus more," he says.

Voilà, BU Minecraft was born.
Virtual can't beat the real thing, Ariyaratne acknowledges. That seems especially true for Commencement, which BU postponed until an as-yet-unspecified date rather than replaced with a virtual ceremony, believing that anything less than an in-person graduation would shortchange students.

"That's a fair point," says Raveendran, who plans to attend the actual ceremony. "But for some students, that may not be a possibility due to a variety of circumstances—moving, work, visas, etc.

"Having a ceremony around the end of May, when everyone else would be having one too, is part of the feeling of Commencement. Graduating alongside not just your classmates but your friends at different schools is something I've realized I've been wanting as the end of senior year came closer."

Partridge agrees. "That's what Quaranteen University represents," he says, "the ability to bring college students together during tough times like quarantine."
QU exists only for Commencement. But the usefulness of Minecraft's BU campus might outlive COVID-19. "It would also allow students to give virtual tours of campus to prospective students," Ariyaratne says, "or even parents, if they want to know what a day in the life is like for a student."
And "since we are doing interiors, students will be able to find classes in buildings before semesters start, helping get rid of the day one, class-finding confusion. This will even help them decide on housing, as a sense of space, natural lighting, and window views would be preserved."