Marshall Sloane, BU Trustee Emeritus and Overseer, Dies at 92
Founder and chairman of Century Bank built a legacy as a tireless supporter of BU, other causes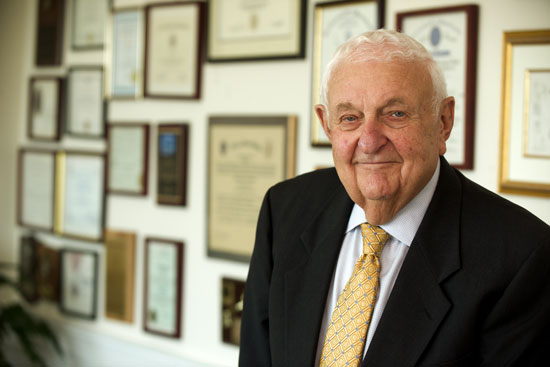 In 1969, a Massachusetts businessman named Marshall M. Sloane opened a small business in a white trailer in a Somerville parking lot. The sign overhead said, "Century Bank and Trust Company," and inside a staff of seven waited for their first customers.
Sloane, of Chestnut Hill, Mass., who was a BU Board of Trustees trustee emeritus and a BU Board of Overseers overseer, died April 6 at age 92, but his legacy lives on in a bank that has grown to more than $5 billion in assets and 450 employees, with 27 offices in 19 cities around the state. Sloane, who attended the Questrom School of Business in the 1940s, was also a founding member of the Henry M. Goldman School of Dental Medicine board of visitors in 1980, later becoming chair, before stepping down from that position in 2007.
It was a gift from Sloane that enabled BU to renovate the 19th-century Brookline house the University purchased in 1994 as a home for BU presidents. The house bears his name.
"Marshall and his family cared deeply about Boston University, the City, and its neighborhoods," said Robert A. Brown, BU president, in announcing Sloane's death. "Their generosity to the University led to the naming of the president's residence as the Sloane House. Marshall's memory lives on through his, and his family's, many acts of kindness and generosity. I will think of him every time I pass through the portal of the Sloane House."
Kenneth Feld (Questrom'70), current chairman of the BU Board of Trustees, says Sloane was one of the first people he met when he joined the board.
"He was always a supporter of BU, that's what I remember," Feld says. "I think more than anything he liked Boston and wanted to give back, and he did that in a lot of ways. One was his dedication to Boston University—through time, his philanthropy, and his guidance and wisdom on the board. He always had a good sense of what was going on in Boston, and that was helpful. He definitely will be missed. He had a great life and a great sense of humor."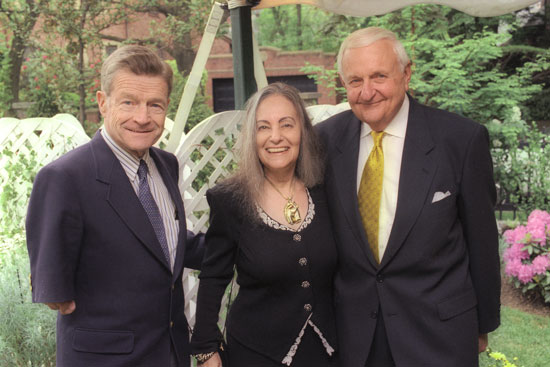 When Sloane stepped down as chair of the SDM board of visitors, he announced the establishment of the Marshall M. Sloane Leadership Development Fund for Faculty and Staff, which annually gives a faculty or staff member an award funding professional development and leadership activities, qualities that were important to a businessman like Sloane.
At a ceremony at the Liberty Hotel in 2015, Sloane and his wife, Barbara, were inducted into the William Fairfield Warren Society, which honors those living individuals and families who have given a total of $1 million or more to the University.
In addition to his work with BU, Sloane and his wife were the sole officers and trustees of the Marshall M. and Barbara J. Sloane Private Foundation. He was also a tireless supporter of the Boy Scouts of America, serving in several roles and raising more than $1 million for local scouting organizations.
Even as his business grew to become the fifth largest community bank in the commonwealth and his own prominence took off in Boston business circles, Sloane maintained a feel for his humble roots and the importance of small-business touches. A 2014 Boston Globe profile of him said he continued to sign the $2 gift cards that customers receive for opening an account with Century Bank. "I'm only happy when I'm here," he told the Globe. "It's in my bloodstream."
In addition to his wife, Sloane is survived by his children, Barry Sloane, Linda Sloane Kay (CGS'81, COM'83), and Jonathan Sloane, and nine grandchildren.
In lieu of flowers, the Sloane family asks that remembrances be made in Sloane's name to Spirit of Adventure Council, Boy Scouts of America, 600 West Cummings Park, Woburn, MA 01801, or to Boston University, Sloane House, 135 Ivy St., Brookline, MA 02446.