BU Students: Learning on the Ground in Puerto Rico
Lessons on the staggering disconnect between what is needed, what is available
Natalia Chavez's spring break in Puerto Rico was not the kind of sun-and-sand getaway touted in travel brochures.
A graduate student in city planning, Chavez (MET) visited Puerto Rico to learn about the ways that Hurricane Maria, one of the deadliest storms in US history, altered life for the island's residents. She found more than she expected: communities where most of the working-age residents had fled, displaced families, and people rebuilding while grieving storm-related deaths.
And all of it occurring as tourism surges to record-breaking levels.
"Puerto Rico is in an interesting situation," says Chavez, who hadn't been to the Caribbean island before. "There are many questions I'd like look into more."
Chavez got the idea for the trip after attending a talk by Carmen Yulín Cruz Soto (CAS'84, Hon.'18), the mayor of San Juan, who appeared at Harvard last year. Along with fellow urban planning grad student Michael Zayas Morales (MET), Chavez spearheaded the trip for more than a dozen BU students, including nine city planning graduate students and three students studying public health or the environment in a five-year bachelor/master's degree program. They were also joined by Madhu Dutta-Koehler, a Metropolitan College associate professor of the practice and director of the City Planning and Urban Affairs program, Yesim Sungu-Eryilmaz, a MET assistant professor, and William Koehler, a MET adjunct business development professor.
The trip offered a glimpse of island life beyond a cabana. The group met with government officials, architects, city planners, and directors of nonprofits, as well as academics at the University of Puerto Rico, to learn about the economic, political, and environmental challenges on the island. It was also a chance to think and talk about interdisciplinary solutions for coping with climate change and the effects of increasingly dangerous storms on island and coastal communities.
The trip was not for credit. It was paid for out of pocket, although BU's Institute for Sustainable Energy donated $1,000 toward the cost.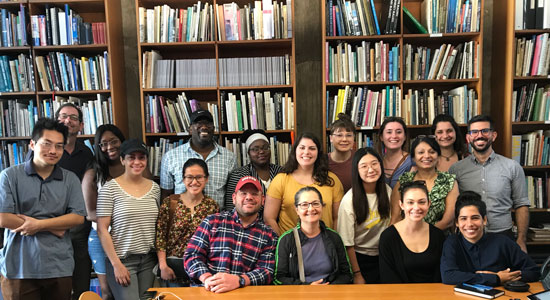 Dutta-Koehler says students experienced firsthand the "staggering disconnect" between what's needed and what's available following a major disaster—even nearly a year and a half after the storm. They also got a taste of the fierce political jockeying for reconstruction funding, as well as the profiteering that can emerge after a disaster.
"It was such an emotional trip," Dutta-Koehler says. "It was that kind of learning experience that makes you realize how much needs to be done."
On one of their five days on the island they traveled by bus to Yabucoa, the town on the island's southeast coast where Hurricane Maria first made landfall, just four days after Hurricane Irma. The Salvation Army continues its work from a camp there, and on the day the students visited, more than 1,000 residents had been lined up for hours to receive free detergent, utensils, and household supplies.
Zayas Morales says the scene left a searing impression, especially when he learned that many who were waiting might walk away empty-handed once donations ran out. "They were all waiting in line, even though they might not be able to receive anything," he says.
Transitioning from victim to aid worker
For Zayas Morales, the trip was a bittersweet return home. He had been working at a tech company when the hurricanes hit the island, hunkering down and waiting out the storm in his mother's house in Ponce. When they reemerged, little was the same. Water and power were lost for months. Friends and family members had no way to communicate. Like many, Zayas Morales' mother lost her job as businesses shuttered or left the island.
He says he quickly joined the humanitarian effort as an aid worker, working long hours in a downtown stadium helping to organize and distribute donations to people who had lost everything. For weeks, he said he was in shock. As the enormity of what had happened set in, he said it often brought him to tears.
And as more time wore on, he developed a sense of purpose. "It opened my eyes, and I began to see what I wanted to do with my life," he says.
He applied to BU's city planning program, which, with electricity spotty at best, was itself a feat. He prepared parts of his application by flashlight.
His return to the island over spring break further fueled his desire to help. A bicycle trip by the BU group to one of San Juan's poorest neighborhoods showed evidence of flooding and problems with mold. Some decaying homes remained covered in places with blue tarps issued by the Federal Emergency Management Agency (FEMA). A woman struggling to get by sold snow cones out of her home for 50 cents each.
Dutta-Koehler says new construction in wetlands around the island has caused water to flow in unintended directions, creating additional problems. She says much of the neighborhood they toured by bicycle had been put in a land trust, so at least those residents didn't have to worry about being displaced by developers.
Corruption is a problem, she says.
"Every time the government declares an area unsafe," because of the hurricane, she says, "the next thing you know, there's a huge office building or car park going up."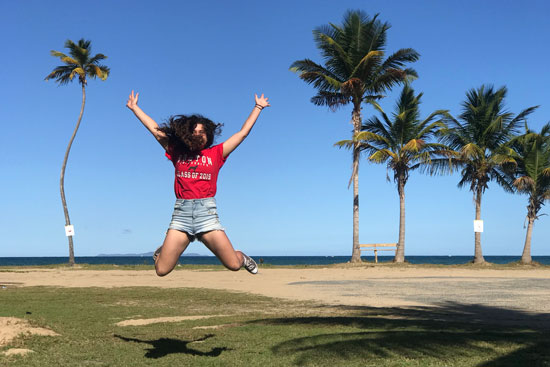 Cruz, the San Juan mayor, has been an impassioned and vocal critic of the way the Trump administration and FEMA responded to the humanitarian crisis (and in particular, when Trump visited the island and tossed a roll of paper towels at public officials during a speech).
"We were dying, and they were killing us with bureaucracy," Cruz said at the 2018 Baccalaureate Service at Marsh Chapel last spring.
The BU group's efforts to meet with Cruz, who recently agreed to cochair the 2020 presidential campaign of Senator Bernie Sanders (D-Vt.), were unsuccessful. But students did meet with academics at the University of Puerto Rico Graduate School of Planning, the nonprofit ENLACE del Caño Martín Peña, a group focused on housing, public health, and zoning, and the Foundation for Puerto Rico, a nonprofit that takes a bottom-up approach to economic development.
Chavez says she also saw a great need for mental health services to help islanders struggling with post-traumatic stress disorder and despair. One nonprofit worker she met shared the painful story of her father's death after the storm. Diagnosed with stage 4 cancer, he needed special medical care, she said, and the widespread power outages hastened his death.
Chavez is also interested in the links between natural disasters and increases in suicide, domestic violence, and human trafficking.
Zayas Morales is thinking about how he can use his education to find ways to make the electric grid more resilient. The months-long power failures crippled the island's economy, with some losses estimated as high as $159 billion.
These are issues that can't be ignored, he says, because it's only a matter of time before another devastating hurricane strikes.
Megan Woolhouse can be reached at megwj@bu.edu.