If It's Tuesday, It Must Be Zumba
Free high-energy workout on the Charles River Esplanade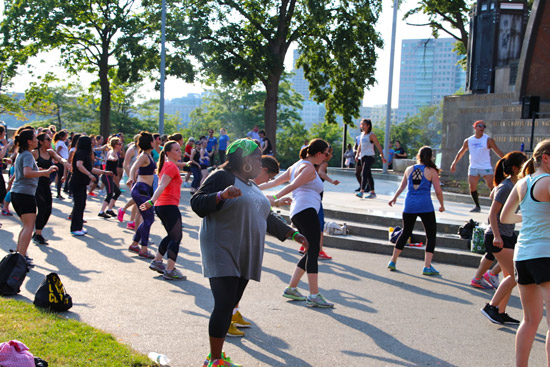 Feel like burning off some energy tonight? Head down to the Hatch Shell on the Charles River Esplanade for a free Zumba class. The class is open to everyone, regardless of skill level, and is led by staff from Healthworks. Zumba classes are held each Tuesday from 6 to 7 pm from July through September 4 and are sponsored by the Esplanade Association as part of its Healthy, Fit & Fun program. Each summer, the association partners with local organizations to create a diverse array of professionally led outdoor fitness classes, all of them free and open to the public.
Zumba is a high-energy total body workout, consisting of fast and slow rhythms combined with resistance training. A blend of Latin rhythms and easy-to-follow dance moves, it's a fun and challenging workout guaranteed to make you break a sweat.
Can't make it to Tuesday night Zumba? The Esplanade Association offers numerous free fitness options this summer, including Sunset Yoga and Marathon Sports Run Club on Wednesday nights, a Bootcamp featuring high-intensity interval training and active rest training on Thursday nights, and a Dashing Whippets Run Club on Saturday mornings. Find more information on each of these free workout sessions here.
Zumba on the Esplanade is tonight and every Tuesday night from 6 to 7 pm through September 4 at the Hatch Memorial Shell, One David G. Mugar Way. Classes are free and open to the public. Preregistration is strongly recommended. Take an MBTA Green Line trolley to Park Street, transfer to the Red Line toward Alewife, and get off at the Charles/MGH stop.
Sara Frazier can be reached at smfrazie@bu.edu; follow her on Twitter @Sara_Frazier.