Staying Local This Holiday Season? We've Got You Covered
Shopping, theater, music, a model train exhibition, and more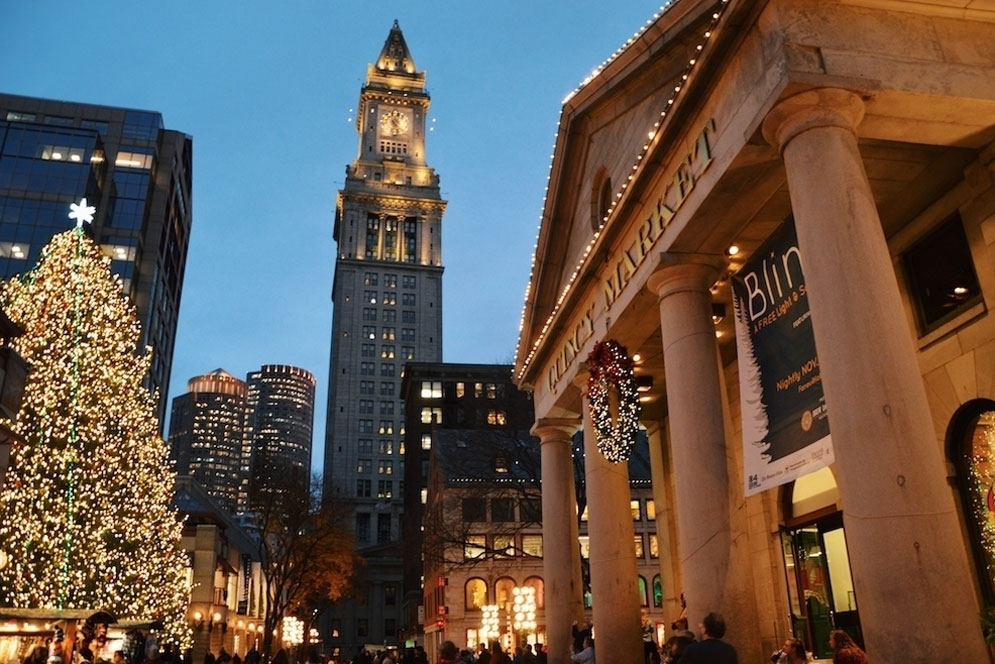 Now that finals are over and the semester is finally coming to an end, it's time to turn our focus to the holidays ahead. Residence halls close at noon on Saturday, December 22, and reopen at 10 am on Friday, January 18. Dining facilities close after dinner today, December 21, and reopen for dinner on Saturday, January 19.
Most students, faculty, and staff will be heading home for the holidays. But if you're sticking around Boston during intersession, there's lots to do to celebrate one of the most festive times of the year. We've compiled a list of activities and events to get you in the spirit of the season, including suggestions for shopping destinations, theatrical performances, concerts, museum exhibits, and more.
Have any more events we should add to the list? Let us know in the Comment section below.
SHOPPING
Free Santa Photos at CambridgeSide
The CambridgeSide mall offers free photos with Santa through December 24. Each participating family will receive two 4-by-6-inch prints and a digital download single image. Afterward, you can stick around to do some last-minute shopping. Among CambridgeSide stores are Abercrombie & Fitch, Apple, Best Buy, Gap, H&M, J. Crew, and Macy's.
Free photos with Santa are available on CambridgeSide level one, 100 CambridgeSide Place, Cambridge. Santa's hours are Monday to Saturday, 10 am to 8 pm, Sunday 11 am to 6 pm, and Christmas Eve, 8 am to 5 pm. The mall's holiday hours are here.
Santa in the City! at the Prudential Center
You can also have your photo taken with the man in the red suit at the Prudential Center's Belvidere Arcade. Photo packages begin at $19.99. If you've bought gifts at any of the mall's dozens of stores—like Lord & Taylor, Vineyard Vines, Under Armour, and Saks Fifth Avenue—you can bring them to the gift wrapping station across from the Barnes & Noble store to have them wrapped for free. Your donations help to support the worthy local nonprofits manning the wrapping station.
Santa in the City! is in the Prudential Center Belvidere Arcade, 800 Boylston St., through December 24. Santa's hours are here. The Charity Gift Wrap, sponsored by Barnes & Noble, runs through December 24. The Prudential Center is open Monday thru Saturday from 10 am to 9 pm and Sunday 11 am to 7 pm.
Downtown Boston Holiday Market
Shop "Boston's only holiday market" at Downtown Crossing, where 20 local artists and craftsmen will be offering their wares through January 6. You'll find everything from custom jewelry, food, and clothing to candles, soaps, prints and maps, and more. This year's market is held in a pop-up spot on Washington Street. Whether you're shopping for yourself or for someone else, you're sure to find something great. And while you're there, head over to discount stores like Forever 21, Marshalls, and Primark for more shopping.
The Downtown Boston Holiday Market, 467 Washington St., runs through January 6. The market is open Monday through Saturday, 11 am to 7 pm, and Sunday, 11 am to 5 pm. The market is closed on Christmas Day, New Year's Day, and January 2. Find a list of vendors here. Take an MBTA Green Line trolley to Park Street or the Red Line to Downtown Crossing.
33rd Annual Harvard Square Holiday Fair
The Harvard Square Holiday Fair insists that it is not an average craft fair, but instead, "a party where you can buy stuff." And it makes good on that promise. Over the course of more than three decades, the fair has become a tried-and-true holiday tradition. Dozens of vendors from across New England and around the globe will be on hand selling handcrafted jewelry, pottery, hats, wooden kitchen utensils, and much more.
The 33rd annual Harvard Square Holiday Fair is at St. Paul's Church, 29 Mt. Auburn St., Cambridge, on Friday, December 21, from 11:30 am to 7 pm, Saturday, December 22, from 10 am to 7 pm, and Sunday, December 23, from noon to 6 pm. Admission is free. Take an MBTA Green Line trolley to Park Street, then an MBTA Red Line to Harvard Square. Find a full list of vendors here.
Newbury Street
Find a gift for everyone on your list on Newbury Street. Stroll the famous eight-block stretch and shop apparel from high-end boutiques like Chanel and Dolce & Gabbana to less expensive chains like Forever 21 and H&M. Or stop into Newbury Comics and Trident Booksellers for books and other quirky gifts. You'll find loads of restaurants, art galleries and salons, and special holiday pop-ups along the way. A list of Newbury Street stores is here.
From Newbury Street, it's an easy walk to Copley Place, with such stores as J. Crew, Gap, Banana Republic, Boss, Coach, Barneys New York, and Neiman Marcus. A full list of stores is here.
Copley Place, 100 Huntington Ave., is open during the holidays Monday through Saturday, 10 am to 9 pm, Sunday, 11 am to 7 pm, and Christmas Eve to 6 pm.
WORSHIP
Christmas Eve Services at Marsh Chapel
Marsh Chapel's annual Christmas Eve services are a time of quiet meditation and joyful celebration. This year, they are offering two services: one at 1 pm, convenient for families with young children, and their annual Christmas Eve candlelight service at 7:30 pm. Music at the first service will be performed by the Marsh Chapel Choir and music at the evening service will be performed by the Marsh Chapel Thurman Choir.
The services, free and open to the public, are on December 24 at 1 pm and 7:30 pm, at Marsh Chapel, 735 Commonwealth Ave.
PERFORMANCES
The world-renowned, Grammy-winning Boston Pops Orchestra returns to Symphony Hall for the 45th annual Holiday Pops concerts. Keith Lockhart (Hon.'04) leads the orchestra through a mix of holiday favorites, the traditional Pops sing-along, and a visit from Santa—all in the world-famous Symphony Hall, which is festively decorated for the season. Programs and artists vary by performance. Families with young children should check out the matinee performances, which are shorter and include a sing-along and post-concert photos with Santa. These concerts run through Christmas Eve, but sell out fast.
The 2018 Holiday Pops Orchestra runs through December 24 at Symphony Hall, 301 Massachusetts Ave., Boston. Limited tickets are available here. Children under four are not permitted at Holiday Pops concerts, but all ages are welcome at Holiday Pops Kids Matinees. Order tickets for the kids matinee shows here.
Boston Ballet's The Nutcracker
The Nutcracker is one of Boston's most beloved holiday traditions. This critically celebrated production is choreographed by artistic director Mikko Nissinen.
Boston Ballet's The Nutcracker is at the Boston Opera House, 539 Washington St., Boston, through December 30. Purchase tickets here or call the box office at 617-695-6955. Tickets range from $50 to $325.
The Christmas Revels: A Nordic Celebration of the Winter Solstice
The Christmas Revels, a joyful theatrical celebration of the winter solstice, returns to Sanders Theatre,  featuring music, dance, folktales, and rituals that include Swedish carols, Danish wassails, Norwegian ballads, Icelandic hymns, and Finnish rune songs, along with dance, puppetry, and storytelling—all performed by a 100-member ensemble. Ticket prices vary by performance. Check out prices and availability here before purchasing.
The Christmas Revels performs at Sanders Theater, 45 Quincy St., Cambridge, through December 29. Tickets range from $25 to $85 for adults and can be purchased online or by calling 617-496-2222. Find directions here.
José Mateo Ballet Theatre's The Nutcracker
The José Mateo Ballet Theatre's version of The Nutcracker offers an innovative interpretation of the ballet, focusing more on the dancing than on the caricatured mime, pomp, and special effects usually associated with the work. Even the cast of more than 100 children who play the mice, soldiers, cherubs, polichinelles, and Clara have substantial dancing roles.
José Mateo Ballet Theatre's The Nutcracker is at the Strand Theatre, 543 Columbia Rd., Dorchester, through December 23. Tickets range from $25 to $80 and can be purchased online or by calling the box office at 617-354-7467.
See this 19th-century classic holiday story presented in a fresh, innovative staging that's modern, urban, and truly Boston. Reimagined by local dance legend Tony Williams, Urban Nutcracker fuses classical ballet, hip-hop, tap, jazz, flamenco, and more with Tchaikovsky's original score and music by Duke Ellington. It even features iconic Boston scenes that include Top of the Hub, Chinatown, and the Boston Public Garden.
Tony Williams' Urban Nutcracker is at the Boch Center Shubert Theatre, 265 Tremont St., Boston, through Saturday, December 29. Purchase tickets online, call 866-348-9738, or visit the box office. Tickets range from $28 to $118.
Barber Shop Chronicles at A.R.T.
Following its critically acclaimed run in London, Barber Shop Chronicles has arrived in Cambridge as part of its United States premiere tour. The play leaps around the globe over the course of a single day, eavesdropping on groups of African men gathered in barbershops in Johannesburg, Harare, Kampala, Lagos, Accra, and London, where they gather to discuss a wide-ranging list of topics, including masculinity, and the relationships between fathers and sons. The play includes music and dance, which serves to celebrate African culture.
Barber Shop Chronicles is at the Loeb Drama Center, 64 Brattle St., Cambridge, through January 5, 2019. Tickets start at $25 and can be purchased online. Find directions here.
Decades before Hamilton took the theater world by storm, there was 1776, the 1969 Tony award–winning musical (later turned into a film starring Ken Howard, William Daniels, and Howard Da Silva) based on the events surrounding the signing of the Declaration of Independence. The story follows the efforts of Founding Father John Adams as he tries to convince a divided Continental Congress to forge a new and independent nation. This inclusive reimagining of the classic musical, staged by New Rep Theatre, features a diverse cast that brings American history alive in a fun, engaging way.
New Rep Theatre's production of 1776 is at the Mosesian Center for the Arts, 321 Arsenal St., Watertown, through December 30. Find directions here. The show runs 2 hours and 45 minutes, plus a 15-minute intermission, and tickets can be purchased by calling 617-923-8487, online, or at the box office.
Faneuil Hall's world-famous holiday light-and-sound extravaganza Blink! is back for its seventh year. The show's more than 350,000 LED lights dance to six holiday tracks recorded by the Grammy-winning Boston Pops and it attracts more than 225,000 visitors each year. Shows take place every half hour, starting at dusk. Note: this crowd-pleaser draws big crowds.
Blink! is at Faneuil Hall Marketplace, One Faneuil Hall Square, Boston, through January 1 (the marketplace is closed Christmas Day). The seven-minute show runs every half hour from 4:30 to 10 pm in the South Market. Admission is free and open to the public.
Exhibitions
Seventh Annual Gingerbread Design Competition
This art exhibition looks good enough to eat. The Boston Society of Architects holds an annual gingerbread design competition, a fun way to challenge Boston-area landscape and architect firms to work with a new medium while also highlighting their innovative work. This year's theme, "Rep your arch' style," encourages participants to create gingerbread structures based on their favorite architectural styles. View this year's submissions and vote for your favorite creation online or in person before December 31. Admission to the exhibition is free, but donations to your favorite design benefit the BSA's community design programs. The gingerbread creation with the most donations is crowned the winner.
The Boston Society of Architects' seventh annual gingerbread competition is on view at BSA Space, 290 Congress St., Suite 200, Boston, through December 31. The exhibition is open Monday through Friday, 10 am to 6 pm, and weekends 10 am to 5 pm. Note: closed on Christmas Day and New Year's Day.
Ansel Adams in Our Time at the Museum of Fine Arts
This blockbuster exhibition of one of America's most famous photographers, which just opened at the MFA, not only has some of Adams' most iconic images of nature, including Freeway Interchange, Los Angeles (1967) and The Tetons and Snake River, Grand Teton National Park, Wyoming (1942), but work by some 20 contemporary photographers concerned about the environment and natural resources. It also includes prints by several 19th-century government survey photographers whose work would influence Adams. It's a dazzling show and a must for anyone interested in photography.
Ansel Adams in Our Time is at the Museum of Fine Arts, 465 Huntington Ave., Boston, through February 24, 2019. Find directions here and hours here. Admission is free for BU students, staff, and faculty with a valid ID. Note: The museum is open Christmas Eve and New Year's Eve, but will close early at 5 pm; it is closed Christmas Day and New Year's Day.
All Aboard! Trains at Science Park at the Museum of Science
Model train enthusiasts of all ages will delight in the Museum of Science's newest temporary exhibit. Welcome the winter season by watching miniature trains of three different scales chug through a variety of colorful winter scenes centered around a snow-capped mountain display. Learn the difference between G, O, and HO model trains, and talk to expert train model makers about the art and science behind their craft.
All Aboard! Trains at Science Park is on view at the Museum of Science, 1 Science Park, through January 6. Admission is included with an exhibit hall ticket, which can be purchased online; $28 for guests over 12, $23 for children 3-11, and $24 for seniors 60+. Closed Christmas Day; view hours here. Take an MBTA Green line E trolley to Science Park.
Looking for ideas on how to celebrate New Year's Eve and New Year's Day in Boston? Check back with BU Today on December 26 for a list of events.
Madeleine O'Keefe can be reached at mokeefe@bu.edu; follow her on Twitter @OKeefeMadeleine.