Sigrid Nunez Up For Top Literature Honor
CAS lecturer's novel The Friend nominated for a National Book Award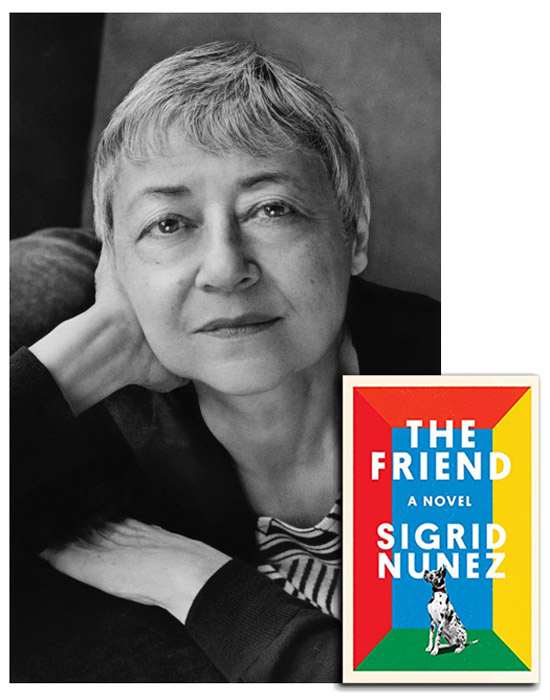 Updated Thursday, November 15, 11 am: Sigrid Nunez won the National Book Award for Best Fiction for her novel The Friend Wednesday night at the 2018 ceremony in New York City.
The Friend, the latest novel from Sigrid Nunez, is a meditation on grief and the deep emotional bonds we forge with our pets. It's the story of a middle-aged writer who has lost her best friend, mentor, and former lover to suicide. Following his death, she inherits his 180-pound Great Dane, Apollo, which poses immediate problems: the narrator lives in a 500-square-foot apartment in a building that has a strict no-pets policy.
On Wednesday night, Nunez, a College of Arts & Sciences lecturer in the Creative Writing Program, will be among a who's who of writers and publishers gathering in the glittering main room of Cipriani Wall Street in New York City for one of the biggest literary events of the year, the annual National Book Awards. Her novel The Friend (Riverhead Books, 2018), is one of five shortlisted for this year's best fiction prize.
In The Friend, Apollo may at times prove to be an unwelcome, smelly, and drooling houseguest, but he also loves to be read to (he's partial to Rilke and Knausgaard). And as the novel unfolds, dog and narrator bring comfort to each other, help each other past their mourning. At one point, the narrator notes: Dogs "don't weep. But they can and do fall to pieces. They can and do have their hearts broken." Later, when Apollo's own health begins to fail, Nunez takes on a deeply elegiac tone.
"I see it as a book about different kinds of loss," she says. "There's the loss a person suffers when someone they love dies, the losses that we all have to face as we grow older, and the lost illusions that most people encounter as they go through life. But the book is also about healing from loss."
It's also a trenchant take on today's literary scene. Her keenly observed depictions of writing workshops are laced with a sly wit.
She had long wanted to write a novel about suicide and suicide loss, Nunez says, and also about her work as a writer and a writing teacher, and about literary mentorship. At the same time, she wanted to explore human-animal companionships. (She acknowledges being more of a cat person herself.) "I saw a way to explore all these subjects in one novel," she says.
The author of seven novels, Nunez has earned a reputation for versatility. She has written about ballet (A Feather on the Breath of God), a deadly plague (Salvation City), and a fictionalized account of the marmoset adopted by Virginia Woolf's husband, Leonard. She's also written a well-received memoir of her own mentor, Susan Sontag, Sempre Susan. But The Friend has brought her a new level of attention, with critics uniformly extolling the book. Kirkus Reviews describes it as "quietly brilliant and darkly funny," and says that it's "a lonely novel: rigorous and stark, so elegant—so dismissive of conventional notions of plot—it hardly feels like fiction." And from the Los Angeles Review of Books: "one of those rare novels that, in the end, makes your heart beat slower."
Judges for this year's National Book Awards concurred. Nunez is one of 25 finalists selected from 1,637 books submitted for consideration, 368 of them works of fiction. Also nominated in the category of best fiction is James Brinkley's A Lucky Man, Lauren Groff's Florida, Brandon Hobson's Where the Dead Sit Talking, and Rebecca Makkai's The Great Believers.
Nunez, who is now at work on a new novel, says she felt "complete surprise, utter delight, extreme gratitude," when she learned The Friend had been nominated.  
She says she's been surprised to hear from the many readers who have written to say how moved they've been by the book. "A lot of them are fiercely attached to their animal companions, especially dogs. I've heard quite a few sad stories from people about losing their pets to illness and old age."